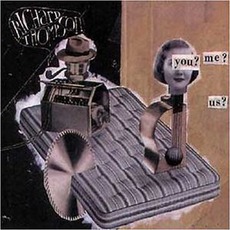 Tracks
People who bought this release also bought
Let's start with the fact that I am a huge Richard Thompson fan and collect all his albums.
"You Me Us" is one of his stronger efforts, if not the strongest, of the last twenty five years. It has an acoustic disc and an electric disc. The production is very intimate, especially on the acoustic disc, one would swear he is sitting in the same room with you singing and strumming the acoustic with Danny Thompson (no relation) on the stand up bass, just a few feet away. Not only is the sound so intimate, but the songwriting, especially on the acoustic disc, is very consistently excellent. "Cold Kisses" is full of classic Thompson insecure jealousy, "Sam Jones" tells the tale of a man who collects dead people for their bones, "Woods of Darney" is a flashback to WW II era, all excellent lyrics we have come to expect from Thompson, but with great melodies that some of his later works lack in consistency.
The "Voltage Enhanced" disc has "Put It There Pal", one of Thompson's classic cut you to the bone lyrics, with a chain saw guitar solo, only Thompson can deliver. "Razor Dance" has some nasty metaphors (no surprise from Thompson, but he does it so well) comparing courting to a dance with razors. "Dark Hand Over My Heart" and "Hide It Away" also show his usual strength with insecure, dark love songs. Docked 1 star for repeating two songs (electric and acoustic versions) and for a couple of weaker cuts (on the electric disc). But overall, an excellent later work of this master of dark lyrics and powerful fretboard work. Plus, as a two disc set, divided between acoustic and electric, one can listen to just one, depending on what the present mood requires. Maybe not the absolute best place to start for a Thompson novice, but an extremely worthy effort, nonetheless.