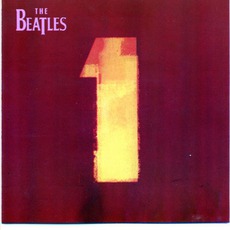 Tracks
People who bought this release also bought
I love this album. The Beatles were a rock band formed in England about 50 years ago. Every one of their songs are amazing. But the album "1" features 27 of their best songs. I have to say that I love every single song in this album! The first song "Love Me Do" is pretty amazing. I love the accordion in that song, and the beat is catchy too! "From Me to You" sounds similar to "Love me Do", except that it's a bit faster and seems a bit more upbeat.
"She Loves You" is the third song in the track list, and after listening to it for a while you'll find yourself singing along to it. "I Want to Hold Your Hand" is probably one of the best songs of the album, and I'm pretty sure anybody who listens to it will definitely love this song right away. "Can't Buy Me Love" is also an amazing song, and will probably get stuck in your head for quite a while!
"Yesterday" is my favorite song from this album. I love the lyrics of this song, and it's also beautifully written. You might find yourself playing this song over and over. The background music in "Yesterday" is also pretty memorable. "Yellow Submarine" is also an awesome song worth getting because it's so fun to sing along to! "Eleanor Rigby" is a pretty cool song too. It sounds very meaningful when you're listening to it. The instrumental part in this song sounds pretty nice with Paul McCartney's voice.
"All You Need Is Love" sends a good message. I agree that all we need is love. "Hello, Goodbye" is an amazing song and will sound awesome every time you listen to it. "Get Back" has a cool beat to it, and you'll probably be clapping along to this song constantly.
My second song from this album is "Let it Be". I absolutely love the piano part in it, and Paul's voice sound beautiful. "Let It Be" is an absolute must from this album."The Long and Winding Road" is the last song worth mentioning. The lyrics are easy to relate to, and this song also makes you feel extremely calm.
Every song in this album is a masterpiece, and will definitely be remembered for a very long time. If your a Beatles fan, this song will have every song you'll love most from the Beatles and more!
One word: Beatlemania!
If you want to study up on one of the greatest rock legends, then this is it.It features their #1 songs.It has 27 of their must known singles.A must for any Beatles fan.