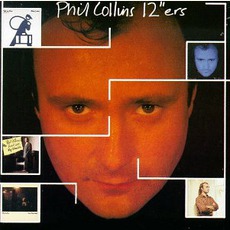 Tracks
People who bought this release also bought
This was an odd sort of venture for Phil Collins. He was at the very peak of his popularity, having a huge hit with No Jacket Required, and on the heels of that, Invisible Touch with Genesis. But his solo work wasn't what you would think of as club dance music. His biggest hits, like Against All Odds and Take Me Home, were more ballad than dance. His first two albums had songs bordering on jazz. So a club remix album wasn't really something you would expect from Collins; however, he did make a career out of dabbling in a little bit of everything.

The most obvious choice for the remix treatment was "Sussudio", a number one Billboard chart hit. The lyrics are essentially meaningless, and the beat is very danceable, so this works very well. There's a lot of repeating of the main rhythm, a good choice for this for of album. This was easily the best remix here.

Another good choice was an album track, "Only You Know and I Know". This is an underrated song from an album full of top ten hits, but it's a very uptempo song. The remix treatment makes it even better. It's a good club mix, the second best dance song here.

There are some odd choices here, too. The first track, "Take Me Home", is a slow tempo, almost ballad of a song. The thing they use is the synth riff, which kind of resembles percussion. It brings a xylophone to mind, actually. This is what they use through most of the song, but this just isn't a dance song. The original is great, one of his best, but the remix was unnecessary.

"One More Night" is another strange choice. This one is a true ballad, a very slow tempo sing that you might find as the slow dance number, the remix treatment just falls flat. Collins has lots of songs that would have fit in better.

"Don't Lose My Number" is one of those. This was a fun, fast song from the start, with a beat that was perfect for this kind of treatment. It's a great 80's dance beat. "Who Said I Would" is another, similar to "Sussudio", but with a bit more attitude. It's perfect for what the feel of an album like this should be, up tempo and flat out fun.

This was an interesting sort of experiment, bringing Collins into the clubs. There are two really strange choices that did not work, but four songs that do work. Times have changed, of course, but if you are feeling the 80's dance groove, this might be a fun choice. If you are just casually listening, or looking to discover something new from Phil, you would do better with another of his solo albums, or maybe even Brand X.