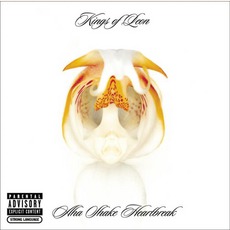 Tracks
People who bought this release also bought
Kings of Leon stand at the top with tracks like "Sex On Fire" and "Use Somebody", but like all good bands, they have come from a completely different place in the musical sense than where they are now. It is good to see that a musical ensemble re-invents itself time and time again with the release of every new album, but the downside can sometimes be that unknowing fans might find themselves mindlessly buying albums that are not at all in line with what they have come to know from their beloved bands and come out somewhat disappointed for it.

"Aha Shake Heartbreak" is one such album. As Kings of Leon's second album, it is the follow-up to "Youth and Young Manhood", and as such it still quite clearly sticks to the rules set out by that first album. The songs still seem weirdly stilted mash-ups of rock songs and country songs, and Caleb Followill's voice, which garners praise around the world for its mystical quality, seems somewhat disjointed here. The signs point very much to a band still looking for that sound that would set them apart, and ultimately coming up short in their inventiveness.

In short, "Aha Shake Heartbreak" was a step in the right direction for the Kings, but it also merely a small step. It would take them another album to finally achieve what they had been looking for. As such, if you want to buy the best Kings of Leon releases, buy their third and fourth albums, "Because of the Times" and "Only by the Night." There are flashes of greatness in there, but overall the album comes out no more than average.
The KoL follow up their debut album, Youth & Young Manhood, with their familiar ringing guitars and scratchy vocals. Sidestepping the sophomore slump, the blood kin muster a mature, ageless mix of barnburners and ballads.