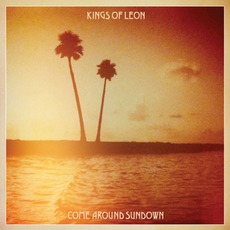 Tracks
People who bought this release also bought
After "Only by the Night", Kings of Leon's fourth studio album, the band managed to convince those few who still didn't like them after "Because of the Times", their third album which doubled as the breakthrough. In 2010, "Come Around Sundown" was released, an album that music lovers around the world had been looking forward to.

"Come Around Sundown" definitely isn't a bad album, but dedicated fans of the previous album may find themselves disappointed somewhat. The good part is the the album features two of Kings of Leon's greatest tracks: "Pyro" and "Radioactive". The soft, throaty vocals of Caleb Followill, which were so prominent in the last entry, receive more of a backseat in favour of more guitar-focused basslines which, the case of the aforementioned pair of track, definitely work.

The other 11 tracks, however, aren't of the same quality. "Mi Amigo" and "Pickup Truck" round out an album which starts out good but ends slightly depressingly, with boring tunes and lyrics that barely had any resonance with me at all.

The third and fourth Kings of Leon albums are worth owning, their fifth really isn't. Buy "Radioactive" and "Pyro" is you want to: these two tracks are worth it. The other parts of the album just fall flat. I suggest you skip it, therefore.
Another album for the arena everyday life of the Kings Of Leon, indeed, with even other way between lonesome song and oversized, nearly dream-like floating guitar sound.

Already the last album introduced the reproach in the Kings Of Leon to be mutated in the course of the years by the Southern Strokes to Southern U2. A reflex-like shortening after the schematic rule of thumb: Rock + stadium = stadium rock.

Really, however, stretched out arms" gesture form Caleb Followills fragile voice and the more and more often used mangy bass sound before "larger than life" scenery ("Radioactive") a contrast, the U2 with her "closed eye + laxly ausbremst. As laxly as they allow to collapse over and over again her own refrains ("Birthday"), as laxly as they help themselves of traditional patterns to play this then the determining kink too slowly ("Mi Amigo"). The Kings Of Leon have outlined all this already before, now mix, however, a little bit more soul in and dip the tension field between Nashville and flow of sound in a dark atmosphair.