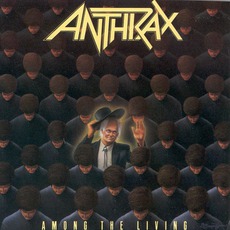 Tracks
People who bought this release also bought
While just barely missing the ultimate year for speed metal that was 1986, Anthrax's 'Among the Living' is right up there with classic thrash albums like 'Master of Puppets', 'Peace Sells... but Who's Buying?', and 'Reign in Blood' from the year prior. Not clearly defined by symphonic melody, punk attitude, or brutal speed like the previously mentioned albums may be (respectively), Anthrax's third album makes use of all of these elements equally to create one of heavy metal's all time greatest albums.

The album-opening title track starts out slow but soon picks up the pace to become one of the band's heaviest songs. As if things couldn't get more frenzied, "Caught in a Mosh" ups the ante even more with an almost bouncy bass line by Frank Bello. It remains one of Anthrax's best loved songs and helped to popularize the term mosh in the realm of metal. "I Am the Law" is based on the Judge Dredd comic books and almost always closes the band's concerts. The darkly humorous "Efilnikufesin (N.F.L.)" warns of the dangers of drugs through the example of John Belushi's death. "A Skeleton in the Closet" is another interesting song about a fugitive ex-Nazi that contains some great double bass work by Charlie Benante. "Indians" is similar to Iron Maiden's "Run to the Hills" lyrically and is another of the album's best known songs, featuring an awesome breakdown and twin guitar harmony from Scott Ian and Dan Spitz. Being of Native American descent, singer Joey Belladonna even dons a headdress when the band performs the song live. These first six tracks are all among Anthrax's best (all of them present on the compilation 'Anthrology; No Hit Wonders 1985-1991'), but the remaining three are from from bad. The weakest track would probably be "A.D.I./Horror of It All" just because of the length. Still, every track features great musicianship, so you can't go wrong there.

It's hard to believe that Anthrax are the most overlooked of the "big four". Just because they didn't sell out like Metallica, have a volatile frontman like Megadeth, or try to be controversial like Slayer doesn't make them any less deserving of attention in the public eye. 'Among the Living' remains one of the best and most important thrash/speed metal albums of all time and is highly recommended to all metalheads.