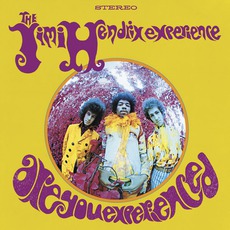 Tracks
Also by The Jimi Hendrix Experience
People who bought this release also bought
WoW! is all you can say when you first hear the sound of this 3 man power group "The Jimi Hendrix Experience" Jimi Hendrix on guitar, with Brits Mitch Mitchell on drums and Noel Redding on bass.

This first album was recorded in the UK in late 1966. This American version of this LP was released in the spring of 1967 minus a few songs included on the earlier British version. All 17 songs are now included in this re-issue. A classic album that should be in everyone's collection.

All up and coming guitar players use this LP as a training ground to develop their chops, although very few will ever come close to Jimi's skill set.

I remember riding the high school bus home and heard "Purple Haze" on AM radio for the first time and almost fell from my seat. What a heavy guitar laden psychedelic tune it was!

Many great enduring tunes are included on this first album by the group, Purple Haze with it's classic lyric, "Excuse Me While I Kiss The Sky", Fire, Third Stone from The Sun, Foxy Lady, I Don't Live Today, and a slowed down version of Hey Joe. Not really a bad tune here.

Jimi used many unusual recording techniques that really made this album very unique at the time. Check it out, you will not be disappointed.