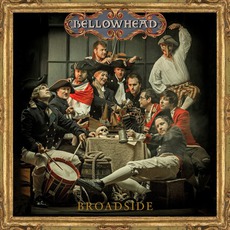 Tracks
People who bought this release also bought
Eleven piece English folk-revival supergroup Bellowhead are on top form with this album which bursts with their unmistakably unique sound from the very first beat to the final note.

Bellowhead continue their zealous and at times anarchic mission to reinvent long-lost-and-long-loved folk songs with imaginative arrangements, a miscellany of weird and wonderful instruments (claviola, anyone?), and a number of different musical influences.

Every song evokes an emotion, whether the joyful and rousing anthem Roll The Woodpile Down, or the nightmarish and claustrophobic cacophony of Black Beetle Pies. Other highlights include the exuberent Lillibulero, and the curiously strange Old Dun Cow, where lead singer Jon Boden's desperate vocals match the drunken frenzy of the characters in the song.

As always with Bellowhead, no two tracks are the same, and some songs will not be to everyone's immediate taste. The album takes a number of listens to fully uncover the richness of different sounds and stories that it offers, but rewards anyone patient and open-minded enough to do so.