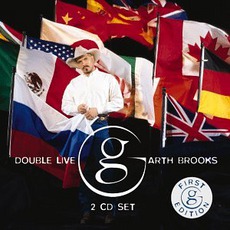 Tracks
People who bought this release also bought
Funny thing is ,... i really don't even listen to country anymore, i started listening to Garth as he had a few good tunes like Shameless Friends in Low Places, The Dance, to name a few. Then i saw he had a live CD. As someone who doesn't always enjoy live music because i'm very picky-all i can say is that Garth nails it. Every note, every line, and it doesn't sound EXACTLY LIKE THE ALBUM version. He is amazing.
There is nothing better than Garth live. The energy, the excitement, the crowd singing along. Garth is truly one of the greatest entertainers ever. His studio albums are great but in my opinion I would rather listen to his live versions because they're that much better. I have seen Garth in concert over 10 times so to finally get a full album live is the next best thing! I would recommend this album to any country music fan and not just Garth fans. His music transcends country and it shows in every track where the thousands of fans in attendance all sing in unison. Buy this album you won't be disappointed!
I am not one for live version albums, but this one is pretty good. I love Garth Brooks! This is the only album where you can find the long version of "Friends In Low Places" with the mysterious third verse, and "The Thunder Rolls". Everyone in the audience sounds like they are having a super time singing along. He is a great performer and he certainly involves the fans.

I just listened to his newest album " Man Against Machine", and it's awesome as well. My first album I ever bought from Garth was "Ropin the Wind" which probably was his biggest album. Have a listen and you'll see why he is a legend of Country music!