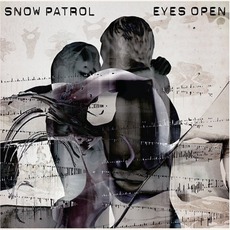 Tracks
People who bought this release also bought
Snow Patrol's 2006 Album "Eyes Open" Is definitely the band at their best. It has songs that make you wanna rock out, and songs that are excellent to fall asleep to. The album showcases their signature chill sound with tracks Such as Chasing Cars, and Set Fire to the Third Bar. "Set Fire is Especially good because it features the vocal talent of Martha Wainright. She, combined with Gary Lightbody's vocals have such nice dissonant harmonies that they send shivers down my spine.
Another one of my personal favourites is the song You Could Be Happy. It starts with synthesizer toned to sound like a beautiful music box, and slowly the songs grows as other instruments like strings and percussion come in. All put together by lyrics of a confused lover, wishing his ex sincere happiness in life.
However, If you're the type who is looking for some of Snow Patrols more energetic songs, I suggest the songs Hand's Open, and Shut Your Eyes. Both have a jammin' rhythm guitar part, and a nice edgy drum track to top it off.
That being said, if you're looking to purchase a snow patrol album, I highly recommend this one.