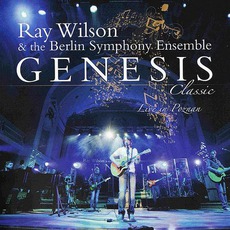 Tracks
People who bought this release also bought
Ray Wilson was the lead singer of the band Stiltskin when he was brought into Genesis to replace the departed Phil Collins as lead singer. After one album, Calling All Stations, and an aborted world tour, an end was called to the Ray Wilson experiment. When Genesis reunited for a tour in 2007, Collins was back in, and Wilson was essentially forgotten. In the recent Genesis collection RKive, the focus is on the five individual members of Genesis, being Collins, Peter Gabriel, Tony Banks, Mike Rutherford and Steve Hackett. Each member had three of their solo songs on the archive; Wilson was only heard in the Genesis single, "Calling All Stations".

So he struck out on his own, using his status as a former member of the band to play their music. The biggest problem, of course, is the ghost of two massively successful singers looms large at all times. So he makes the baffling decision not hide from them, but rather to put a spotlight on them by performing some of their most well-known solo songs. Gabriel's "Solsbury Hill" is almost in his wheelhouse, His attempt at Collins' "In The Air Tonight" is perhaps the biggest misstep on the album. He has trouble getting the audience into it...he just does not have the same level of energy and charisma as Collins, and the result is, at best, awkward. Wilson fares better with the Mike & The Mechanic's "Another Cup of Coffee", from Rutherford's side band. This song is better suited to his sort of deep, emotional voice. However, he follows with the faster-paced "Jesus He Knows Me", from the Genesis album "We Can't Dance", the last Collins studio album. Wilson's voice just can't seem to keep up with the pace of the song.

Wilson has a voice that is well-suited to a particular style of song, and struggles when it gets outside of that comfort zone. He likes lingering on each syllable, and feels rushed when the pace quickens. He does well with his own material..."Constantly Reminded", "Change" and "Inside" are written to his strengths, a kind of deep, angsty tone. His own Genesis songs, "Congo" and "Calling All Stations" benefit from having involved him in the process of creating the songs. Moving to songs that require an intensity, or an anger like "Land of Confusion" just leaves the listener cold. It becomes apparent that this is not HIS music, it's someone else's.

The musicians Wilson has gathered for this performance, The Berlin Symphony Ensemble, do a solid job with a difficult task. Genesis fans know that perhaps more important than the vocals in a Genesis song is the actual music. Genesis has always been very precise, very well-rehearsed, and very invested in the music that they play. The band here are excellent musicians, and while they play very well, they are just not invested in what they are playing. Their job was to back up Ray Wilson, not outshine him, and they do that well, but that's not what the music is really about.

Ray Wilson is a good performer, and he honestly gives a good performance here. The problem is that by and large, this is not his music, and that's just too obvious. If you listen to Steve Hackett's "Genesis Revisted" concerts, that is seemingly very similar in concept to what this is, a former member of Genesis performing the group's music with his own assemblage of musicians. The big difference is that Hackett is completely invested in the music he plays. It's as much a part of him as he is of it; he understands that fans of Genesis are looking for the music they love so much. Wilson is simply using the music to suit his own style, and rather than coming off as a part of the group, this feels like a cover band. This is not terrible, but this is not something you'll want to revisit.