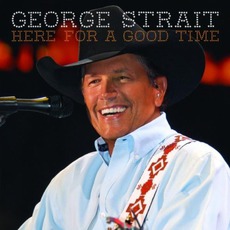 Tracks
People who bought this release also bought
George strait has always been a favorite of mine. He is true to country music and his tunes always tell a story of that true country life. I bought this album when the title track "here for a good time" came out and I am very pleased that I did. This is a nice tune to take some of the stress out of your life and live every day like its your last, enjoy it. Not only do I love that song, but I also enjoy "loves gonna make it" Great love story everything will be okay just keep your love close and battle the stresses together and everyhings gonna be alright. Truely another great cd from george strait. If you are a george strait fan, or even if you are not you should surly have this album in your collection.
George Strait is SMOOTH and 100% COUNTRY.This is his 39th album and also one of his best.REAL COUNTRY.
George is not really known for his songwriting but has written or co-written 7 of the 11 tracks (including title track Here For a Good Time) with his son George Junior (aka Bubba) and renowned songwriter Dean Dillon who has a long and successful association with George.
My favourite tracks are title track Here For a Good Time and Blue Marlin Blues.
If you dont know George Strait's music, start here and work your way back - you wont be sorry.