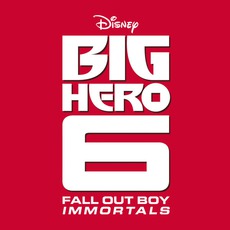 Tracks
People who bought this release also bought
'Immortals' was Fall Out Boy's first song to be written for a movie soundtrack. Big Hero Six was a great movie, and having Fall Out Boy really adds to the superhero aspect of the movie. Building on what already made them popular, Fall Out Boy takes the vocals and really give them the spotlight on the song, giving the song it's full and powerful lyrics. Fall Out Boy's creativity never seams to run dry, producing song after song with great meaning behind every song. This song is great for those really enjoyed Big Hero Six, and/or have kids who loved the movie too.
FOB does it again.

When I first heard this song while Watching Big Hero 6 in Theaters, the first thought in my head was "what is this song and who is it by". As soon as the vocals began I thought "oh Crap This is Fall out Boy. This is AWESOME". First thing I did when I got out of the theater? bought this song.

You know a song is something special when the first thing someone does after hearing it is buy it.