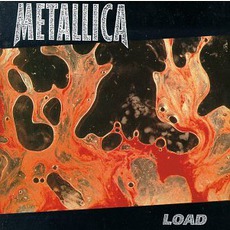 Tracks
People who bought this release also bought
I started to listen to Metallica when I first purchased the Black album, which is their most popular album. I was listening to a rock station when I heard the Song "King Nothing" and realized who was singing. I had to get it!! Now I'm diving more into this group. Caprice is a great way to experiment.
Normally overlooked in conversations about good Metallica albums, Load (and to some extent, Reload) are solid, well written rock albums. Whether they sit alongside the Metallica gone before is another question, but as stand-alone albums they deliver some excellent songs and a different side to the San Francisco band's music. This is a very strong album for James' vocals, as we will explore.

So, Load's opener "Ain't My Bitch" kick is as a fast paced hard rock track, and sets a good scene. Swinging between rhythms and with some excellent fast-riffing from Hetfield, this is a good track.

2x4, a slower blues rock is a head-mover, and has grunt with a dirty riff, with wah-effect complimenting James' great lyrics delivery.

"The House Jack Built" starts slowly, excellent vocals once again from Mr H, building to a nice riff but never really kicks in until the verse, and then the chugs take over and the track gets going. Another nice climbing chorus here too.

"Until It Sleeps" is a mixed bag. The verses start almost immediately and are very sparse, but when the 2nd part of the verse kicks in, things heat up. Another song built around James' vocals, his delivery carries this song.

"King Nothing" is one of the great tracks of the album. Very slow and deliberate intro eventually lays a bassline into a cracking riff, with drums at a now-familiar mid-tempo. This song could have easily appeared on The Black Album for me.

"Hero of the Day" is the genle / heavy mid-CD near-ballad. Soft-rock done fairly well, the verse picks up with low-distortion and further excellent delivery on the vocals. Subtle guitars layered and climbing high aren't apparent until further listens. This is one of those songs needing of a few listens. The middle-8 (if that's an appropriate description) kick in heave, reverse snare led and the vocals are spit out as hard as the guitars. Gives the impression that 'Tallica could still write it heavy, but chose not to for the most part.

"Bleeding Me" is very slow when compared to most tracks on this, but is intriguing. There's not a lot going on here, gentle guitars and even gentler drums. Not the greatest lyrically, but once the Chorus gets going, its great. Shame it doesn't last long enough, or feature enough. Some great vocal harmonies can be found here.

"Cure" is a fairly obvious move on from the laid-back tracks we have just heard and onto a solid rock approach again. Stripped down until the first Chorus, and it builds nicely - but really fails to delivery what you want at this stage. Some nice guitar work in places though.

"Poor Twisted Me" - back on the lower bpm again, and I think this is where some Metallica fans started to get impatient. Very slow, very Southern. Nothing wrong with it - it just feels like a cover more than Metallica. The vocal distortion is weird too.

"Wasting My Hate" - YES! Anger. Short, angry Metallica. The intro leads you to believe it might be another soft one, but no... cracking riff, and some nice (yep) drum ideas from Lars. This is a return to the hard stuff. Not heavy, though.

"Mama Said" - this is Country. Another song you should try and appreciate on its own meric, and dont think of it as Metallica. Great vocals, nice feel and flow. But its Country.

"Thorn Within" is dissapointing, and really feels like a song which just made the cut.

"Ronnie" has a nice rock riff, and despite the almost Aerosmith-feel to it, its a good song. Nice story telling from Hetfield here.

The album has fallen away here, with its best songs gone, but "The Outlaw Torn" does make up somewhat. Slow, but meanacing and stinks of a retribution and anger again. Nearly 10 minutes long, and sections with hardly any guitar, when it does come in, it feels really nice.

Overall, a good album but didn't need to be 14 tracks long. Should have combined the best parts of this and Reload and made one very very very good rock / hard rock album.
This is not my favorite Metallica album. After the success with the Black Album my expectations were high on this album. I was disappointed. The album contains some good tracks, but there are too many tracks that never should have been released. If I have to listen to any track of this album I would go for Until it sleeps or Hero of the day.
This is a really good album. Starting to like Metallica a lot more than I used to like them. I'm really enjoying these songs on this album here. Great album. Four stars from me.