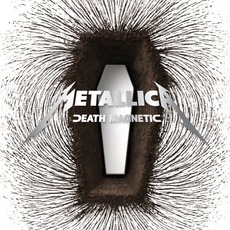 Tracks
People who bought this release also bought
After the St Anger album Metallica made a "comeback" with Death Magnetic. With this album Metallica returns to the original sound of Metallica, which means trash metal. Another thing that is back is the guitar solos, of which there were none on St Anger.
The album is full of strong melodies and lyrics and that makes it hard to stop listening to this album. It is also interesting to note that Metallica has picked up their old tradition of having an instrumental song (Suicide & Redemption). For me the best songs are The day that never comes, Broken Beat & Scarred andThe Unforgiven III. This album is also the first to feature Robert Trujillo on bass guitar.The only thing that almost makes me take away one of the stars is the mixing/mastering. When listening to the album there is a obvious distortion on the high peaks of the sound. Following this there is a minus for the sound quality, but since the songs are really good (the best since Black Album) I have to give it five stars.
While not as well known as some of their other music, Metallica did very well with this CD. After St. Anger, this cd has brought back some of the old Metallica sound. Definitely worth downloading.