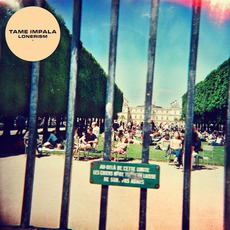 Tracks
People who bought this release also bought
There is established in anticipation the blast furnace prior to Tame Impala's second long player on the excellent 'Inner Speaker', there was a gentle, fuzzy and deservedly ram for sunshine psych rock the budding career.

'Be Above It' false starts the album slightly wobbly, but then smoking Australians otherwise also into gear. 'Endor Toi' rides start browsing the cosmic, arpeggierende synth snakes through kaleidoscopic, acid green countryside, followed formidable up the piano boxing 'Apocalypse Dreams'. 'Mind Mischief' is almost complete halt, but saved at the last moment by Kevin Parker sucking signature phaserguitar.

The tone rippling synths is a breath of fresh air and also helps to make 'Music to Walk Home By' and 'Why Will not They Talk To Me?' Magic. The last is another of Parker's brilliant, melancholy loneliness snapshots with a krautrocket operate as a backing - one cruisende momentum also characterize the catchy first single 'Elephant', which sounds like a forgotten Black Sabbath outtake. The album is based on natural and lovely varied extension of the debut universe, with an added dash of Parker himself admitted fascination with 70s progpop legends Supertramp and his homemade production sounds again as if it engulfed in a dusty, moth-eaten shoebox.

Parker has, like most, a certain comfort zone in terms of its dreamy, angelic gentle vocals. The monotonous 'Feels Like We Only Go Backwards' slider so nerves with shrill falsetto choruses and the shutter 'Sun's Coming Up' sends him down to register the basement, which definitely does not dress him - like a few other numbers haddock too far in sand with outstretched, jamming c-sections. These missteps frustrates enough 'Lonerism' to be perfection, but it's still a worthy follow-up? Resounding yes!
This album is filled with great songs. every track is original and resembles a modern version of Pink Floyd. Although Tame Impala's albums have all been great in my opinion, this is the best ones far! This band has a very unique style that makes them stand out.
With budding bands like Tame Impala, Thee Oh Sees, Ty Segall, and Foxygen, it is clear that 2012 and 2013 are major years for psychedelic rock, which keeps me on the edge of my seat, anticipating what will come next. 'Lonerism' is a crown of these efforts, with psychedelia worthy of classic acts like Jefferson Airplane and Blue Cheer. It could have easily been popular 50 years ago! Surely one of 2012's greatest, not to mention one of the greatest Australian bands of the last decade, if not all-time.

From start to finish, we have masterful drumming and use of synthesizer and guitars. The vocals remind me of 'Revolver' era Beatles. You will need to purchase the whole album to appreciate its genius. Highlights are 'Apocalypse Dreams', 'Elephant', and 'Mind Mischief'. Buy this album and you won't be sorry!