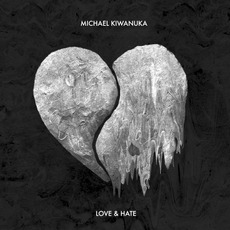 Tracks
People who bought this release also bought
There are almost bottomless depths of Love & Hate, whose grainy production opens up a space where singing strings, fledgling guitar strokes and blessed choral parts are the building blocks. Music beats still rooted in Kiwanukas mournful vocals, but the songs have more elbow room than on the debut album Home Again.

There are grand gestures on Cold Little Heart, whose tremulous beginning of anxious strings and sparse piano chords slowly develops into a grandiose overture. As a stream that winds through the soundscape, the listener over from foaming widths refreshing oases. In addition to being a daring and patience consuming first issue, it is also worth noting that the singer can not be limited by either radio format or his own voice spans. The sound is carried on the rest of the album, the melodic strings elevates mood on Father's Child, and gospel tradition allowed to germinate on Black Man In A White World.

With Danger Mouse in the producer's chair have the songs been allowed to trickle down. The clothes retro singer who no longer enter heel counters of the great soul singers. Although there are certainly nostalgia track in the compositions, so get Kiwanuka chiseled clear that it is not only his vocal strengths that carries him, but also the ability to create cinematic soundscapes.