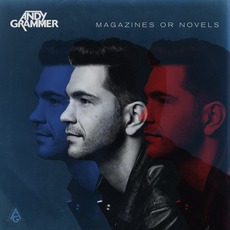 Tracks
People who bought this release also bought
Andy Grammer has blown me away with the songs on this album! In a world where sex, cheating, drugs, and unfaithfulness is preached on almost every album now, Andy uses the powerful platform he has to create songs that encourage morals and standards, while still being top radio hits! He proves that you don't need to sing about sex, drugs, etc to make it in the music industry. He has done a great job yet again of creating great catchy songs that, in today's society, go against the grain of what other artists sing about.

My favorites are "Honey, I'm Good", "Back Home", "Holding Out", and "Forever".

"Honey, I'm Good" takes the popular message of cheat on your man/woman and sleep around, and says "No". This song instead talks about being faithful to the person you got waiting at home because of the love that you have for that person.

"Back Home" is a great anthem that talks about how even though sometimes we may wander and stray, we will always find our way back to ones that truly love us, we will always find our way back home.

"Holding Out" is a song that talks about being pure,and waiting til marriage because of the importance of it, and how special it is to share that moment with the person you truly love, knowing that no one else came before.

Throughout the album, I notice that, while I haven't heard of Andy stating that he is a Christian, he discusses some very Christian-esque themes in his music, such as being faithful, waiting til marriage, praying to God, etc. I think regardless of whether or not Andy is a Christian, there are 2 things that are for sure: 1. He is a man with morals, 2. He makes some great music!

Pick this album up! it is fantastic!