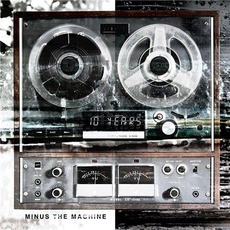 Minus The Machine (Deluxe Edition)
by 10 Years
Tracks
People who bought this release also bought
Fans of 10 Years will be pleased with their latest release, "Minus the Machine", their sixth studio album and the first with their own independent label. Also, fans of quality and consistency will appreciate this record as it is definitely in keeping with their earlier works, "The Autumn Effect", "Division", and "Feeding the Wolves". What is consistent is spot-on vocals, complex and provocative lyrics, and arrangements that are true to the alternative metal genre. They also continue to provide contemplative and challenging themes which emphasize one choosing and acting consistent with reality.

The first track "Minus the Machine" kicks things off well and sets the tone for the rest of the record. It shows some diversity in arrangement as does all the rest of the tracks, as they seem a bit more disjointed than their previous works. The most distinctive song of the lot is "Dancing with the Dead". It is well put together, tight, polished, and stretches the bounds previously established. In my mind it will end up close in quality to one of the group's best known songs which set them apart years ago, "Wasteland".

Typical for the group's dynamic there is a lack of solos, that is vocal, lead guitar, bass, or drums on the album. The scarcity is not for lack of ability, but undoubtedly by design. However, there are several points in the album that whet the appetite for a few more bridges with these elements. For instance, the bridge in "Backlash", the acoustic feel in "Writing on the Walls", the bass in "Sleeper", and the rifts of "Battle Lust". This is in no way a criticism. It is an observation and compliment to the ability and skill of each member of 10 Years.

The somewhat disjointed theme of "Minus the Machine" is in contrast to what we have come to know from the group's earlier submissions. This is no doubt reflective of their liberation from a major label and an expression of their point. They seem to want artistic freedom instead of being run through a shoot to pump out one album after another.

While I am unable to give this effort any more than 3 Stars, since collectively it does not achieve memorable status, it does inspire hope that there is more to come from 10 Years, whether it is through their own label or them being able to find and forge a prolific relationship with another major label.