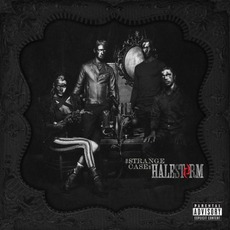 The Strange Case Of... (Deluxe Edition)
by Halestorm
Tracks
People who bought this release also bought
I've comment on Lizzy Halestorm before and I'll say it again, there aren't many female rockers out there anymore and this girl can rock!! I really like "You Call Me A Bitch Like It's A Bad Thing". That song says what I think some women think more often that not. I also like "Love Bites (And So Do I)". If you ever had a relationship go bad. this song speaks volumes to you.
I recently discovered Halestorm and I'm really enjoying this album, the second full studio release from the band. If you like straight up unpretentious rock and roll with a strong female singer, then this band and album are for you. Lzzy Hale is capable of belting it out and equally capable of softening and slowing it down.

The album starts off with Love Bites (and So do I) which will get your blood flowing. It continues through 3 more hard rock songs. Mz Hyde plays on the "Good girl gone bad"...and "There's no way to be sure, Which girl you'll get to know!" I Miss the Misery hits upon that love-hate aspect we often hit in relationships. "I love the way that it hurts! I don't miss you, I miss the misery!" Freak Like Me appeals to anyone who has felt like they don't fit in. It provides a nice lead in to the softer Beautiful With You where Lzzy shows a more vulnerable side. The theme continues with the even softer "In Your Room" where the tables are turned and Lzzy wants to be let in on the vulnerabilities of her partner. Break In continues the theme once more. Lzzy shows off her voice against piano, soaring without searing or screeching. Rock Show picks up the pace once again. It appears autobiographical in that she sings of the little girl in the front row, then of the perspective from the stage. Daughters of Darkness is another mid-paced rocker which addresses her fraternity (female rock singers) and their minority. You Call Me a Bitch Like It's a Bad Thing revs things up further with its "I don't give a sh!t" attitude. American Boys turns the table on the guys with its "They're my favorite toys" attitude. Here's to Us is a soft rocker about the roller coaster of life. A fitting close for the standard album.

The Deluxe Edition provides 3 bonus songs. Don't Know How to Stop is about giving it your all and not being scared. Private Parts is a duet that moves from soft to hard. While the theme is once again relationships and vulnerabilities and opening up, I can't help but smirk when Lzzy sings, "Show me your private parts"! Some tongue in cheek rock chick lyrics there if you ask me! Hate It When You See Me Cry is another mid-paced song that wraps things up, addressing the times when we need to lean on someone.

While musically they are not breaking any new ground, Halestorm does provide solid fresh rock and roll. Lyrical content is strong as well. If you like early Heart, Pat Benatar and music / bands like that, then definitely check this out. You won't be disappointed.