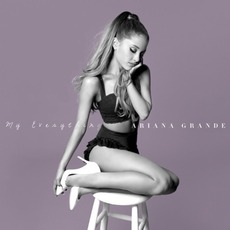 My Everything (Target Deluxe Edition)
Tracks
2.
Problem (feat. Iggy Azalea)
3:14
5.
Break Free (feat. Zedd)
3:35
6.
Best Mistake (feat. Big Sean)
3:54
7.
Be My Baby (feat. Cashmere Cat)
3:37
8.
Break Your Heart Right Back (feat. Childish Gambino)
4:13
10.
Just a Little Bit of Your Heart
3:53
11.
Hands on Me (feat. ASAP Ferg)
3:12
13.
Bang Bang (vs. Jessie J,Ariana Grande,Nicki Minaj)
3:19
People who bought this release also bought
'My Everything' is the second full length release from Nickolodeon star-turned-pop princess, Ariana Grande. Grande's first release in 2013, 'Yours Truly' was generally well received - stylistically, the album felt like a throw back to 90's rnb and pop, something that earned Grande frequent comparisons to Mariah Carey. 'My Everything' is more of the same but sounds a little more grown up this time round. This album's two lead singles were produced by Max Martin, who just about defined pop almost 15 years ago with Britanny's 'oops! ...I did it again' and 'stronger'. 'Problem' is one of the biggest hits of the year with it's captivating build up, primed by Grande's power house vocals (which are seriously good), dropping uexpectedly into a bass driven Big Sean whispering segment. Iggy Azalea is featured on this tune and delivers some killer lines. 'Break Free' feels a little like 'stronger' for the EDM age. Nothing particularly unique but a great dance tune none the less, Grande's strong vocal matching the energy set by the track. I prefered this album to her first. Ariana Grande seems to be slowly but surely discovering her own sound, something that sounds a little more relevant for today than the retro throwback on the last album. It's also worth noting that the lyrics on this album are a little more adult than than before, a change from Grande's supposed squeeky clean image. I loved 'Best Mistake', a slower song with some very interesting juxtaposition between orchestral strings and a phat beat. Grande really shows what she's capable of on this with some of the Mariah'esque runs she does. At times the rapping on the album feels really cheesy with lines like "How can we keep the feelings fresh/ How do we Ziploc it?". This album is far from memorable but overall a good offering for a pop record. If you love pop or rnb there's a good chance you'll enjoy this.