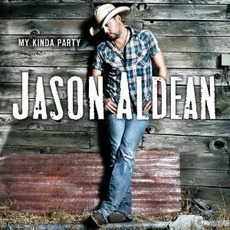 Tracks
People who bought this release also bought
Jason Aldean is a great artist. He is a favorite in my household. I haven't found a song of his yet that I don't love. One of my co-workers is more of a Classical Rock girl but she loves his music as well. I bought this album for my husband last year and we still listen to it. We can't get enough of it!
What can I say about MR Jason Aldean except that I belive in his talent as an artist. There are many greagt songs on his new " My kind of party album.My kind of party is one of the first that jump right off the top of my head!"Dont you wanna stay" hid duet with Ms Kelly Clarckson is another. I love the way he combines a rock aqnd roll sound with country that does not have a whole lot of, whats the word I am looking for here, Twang! Thats it! Thats the word Twang. Country without alot of twang! So there you have it folks!Big thumbs up tp Aldean and his newest latest and greatest!Final thought, I Love him! ONE LOVE Red Rene
From the very first Jason Aldean song I heard I was in love. His songs speak true to life. I have not found one song on one of his albums I did not like. This is a cd you can put in, never skip a song, and not get tired of listening to it.