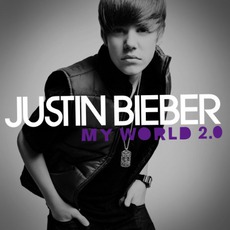 Tracks
People who bought this release also bought
His talent is going to waste. Justin Bieber is undeniably talented if you look past the autotune and millions of pre-teen fans. His voice has mature quite a bit since he has got into the business, but is being wasted on lyrically-stale tracks. It is time for him for his musical style to mature also and become a legitimate force in the music business.
Best album ever!!!!!!! Just kidding. Justin Bieber is one of those artists you wish you could send into space and never see them again. I don't wanna be a hater, but all the songs on this album are extremely annoying and repetitive. I would give this zero stars if I could. I can see how Usher could think Bieber has talent, but there are a LOT of things that would need to change before Bieber could even be close to being a decent artist. Sure, this album might be great for junior high girls who only listen to super annoying pop music, but for real music fans, let's just say this album leaves much to be desired.
In 2007, while teen sensations The Jonas Brothers were given their 15 minutes of fame, R&B/Hip Hop musician Usher found a Canadian kid with the potential of becoming a star and tried to give him fame. It took about three years to take effect, but eventually, that kid became famous with his singles One Time, One Less Lonely Girl, and Love Me. He also released an EP called My World (based on the pre-chorus of One Time), which included those love songs along with many more. The kid continued to achieve fame, and eventually released a song titled "Baby" that was the height of his career. By now, you should already realize that the kid in question is the world famous—or rather infamous, Justin Bieber. He has also released this EP called My World 2.0 (I guess he couldn't think of anything better), including that song Baby. The lyrics are unbearably repetitive and just repeat the world Baby throughout the chorus. There is also a crappy rap section by good ol' Ludacris, but lately, that is all we can expect from him. Like many mainstream artists, he continues the use of text speech in song titles (U Smile) and many more love songs. Love songs are good in moderation, but using them in every one of your songs is not a good idea at all. A frequent use of love songs bore the listener to tears, unless of course they are not heterosexual males. Females, for some unknown reason, have an extreme liking to love songs, and Justin Bieber exploits this fact, yet takes it too far. He FILLS the album with love songs, yet they all portray the same message in the same exact way: I love you and don't want you to leave me. Overall, this kid cannot sing, write music (if even that), or do anything related to music well, yet he has one talent: being good looking enough to make thousands of girls want to marry and make love with him. He is otherwise completely untalented.
Like the review before me, I agree with him that Usher has taught him the ways of the music industry and that it is very complex. He has figured out how to address his target audience, and creates tons of ballads (like that's anything new—ever heard of Hair Metal?) to appeal to his audience. All of these songs are about love. Love has been used as a songwriting topic since the creation of boy bands (A.K.A. The Beatles' Please Please Me). Like the Beatles' early years, he uses repetition like crazy, but more often than the Beatles. The chorus for She Loves You: She Loves You, yeah, yeah, yeah, She Loves You, yeah, yeah, yeah, She Loves You, yeah, yeah, yeah, yeah! The chorus for Baby (goddamn that's extremely annoying): Baby, baby, baby ohhh, Like baby, baby, baby noo, Like baby, baby, baby ohh, I thought youd always be mine mine; (repeat) Baby, baby, baby ohh, Like baby, baby, baby noo, like baby, baby, baby, ohh, I thought youd always be mine,mine. It includes more repetition that She Loves You, AAAB rhyme scheme, and the chorus is substantially longer. It is extremely repetitive. I still don't understand why any girl would like this music. It is because he looks good (I have to admit, Usher knows who he picked), or is it because of the love themed messages? People are so stupid and blind today, not only because of that music, but also because they are actually comparing Justin Bieber to Michael Jackson (as if using the two in the same sentence wasn't enough). What the hell? Michael Jackson could actually sing AT FIVE! Justin Bieber is 15 (16 now, going on 17) and I can already tell that he's going to be crap. He is only STARTING PUBERTY at this point. His voice is just beginning to crack. This friend of mine's 13-year-old son finished the process of voice changing, and his voice never cracks anymore! What does it take for this kid to finish puberty? Time will tell.
While this may not be a great album by mature tastes, it has some decent songs that younger girls will adore. Bieber knows exactly what he's doing and who his target audience is. As You would expect it is the ballads that stand out the most; containing teen love and us against the world themes .His pop songs are light on the ears with a catchy tune that you will hum throughout the day.