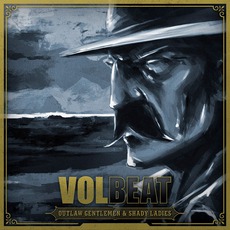 Outlaw Gentlemen & Shady Ladies (Limited Deluxe Book Edition)
by Volbeat
Tracks
People who bought this release also bought
This is quite an album. The first Volbeat album I became aware of, and the first one released with former Anthrax axe-man Rob Caggiano in 2013. The album is eclectic, dynamic, part-country, part-rock, part-pop, full of melody and full-bodied rock-n-roll.

The production is fantastic, the atmosphere – thrilling. Volbeat have the uncanny ability to feel the melody and combine light and shady in a unique way that keeps the listener on his/her toes. My personal favourite on the album is Lola Montez, telling the story of an exotic dancer and an actual historical figure. The riffing is heavy, the down-picked melody chugging and pleasingly muscular yet perfectly fitted to the melodic vocals. I also like Doc Holiday, which takes me back to watching country movies like Tombstone – on this one the mix of banjo, acoustic guitar and then, break-neck, super heavy speed metal assault which form Volbeat's inimitable blend. Lonesome Rider is another highlight, telling a Lovecraftian story of bleak romance, where harmony and melody soar and drive the listener to the edge of the seat.

It is heavy and unusual and this album led me to explore earlier work to find that it is all there, melody and heavy riffs, metal and rockabilly, equal parts Johnny Cash and James Hetfield. If you haven't heard Volbeat, you should – and I think this is the best introduction to their work. Especially if you are an Anthrax fan, in fact this album reminds me – a little – of Anthrax's We've Come for You All with its own blend of heaviness and melody. Quite a thing to achieve, in my view.