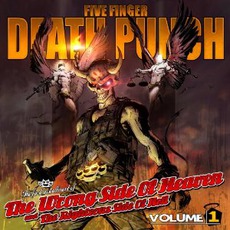 Tracks
Also by Five Finger Death Punch
People who bought this release also bought
Love this album, especially hearing Ivan and Rob Halford together on the same track.
I recently started listening to Five Finger Death Punch. I like this album because it is a good mix of slower songs and faster louder ones. The only thing that I don't like is the live music on the second disc. The songs are great, but recorded live music doesn't do the music the justice that it deserves. Overall, great album though.
This isn't my first time listening to Five Finger Death Punch. If you going to purchase one of their albums, I strongly suggest this one. I love their remake of Bad Company's "Bad Company". I usually don't prefer remakes over originals, but in this band's case, I make an exception.

I also saw the video "Wrong Side of Heaven". You have to watch this. Even though this is a heavy metal band, this video about homeless American Veterans made me cry. Now that I see that Five Finger Death Punch cares about Veterans, I will definitely listen to more.