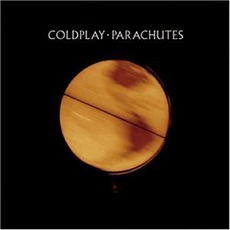 Tracks
People who bought this release also bought
"Parachutes" is the debut album by the British alternative rock band Coldplay, which is a very uplifting album, featuring classic guitars and very emotional, often happy lyrics that combine with sad music that ultimately contribute to great melodies. Key Tracks include "Don't Panic", "Shiver", "Yellow", and "Trouble".
Parachutes is Coldplay's first album, and it's certainly an awesome debut album. It has a lot of tracks that I love listening to. My personal favorites are Don't Panic, Yellow and Shiver.

The first song, Don't Panic, is the opening track, and I can be described as a very calming, relaxing song. The second track, Shiver, is my favorite song from this album. I really love the background music in this song, and the vocals compliment the background music too. Shiver is a must have from Parachutes.

Spies is an all right song, and it's a bit mysterious. It really isn't as good as the other songs in Parachutes. The same can be said about Sparks too.

Another one of my favorites from Parachutes is Yellow. I love Chris Martin's voice in this song, and I also love how thoughtful the lyrics are. I smile every time I listen to Yellow, and it's another must have from Parachutes.

The sixth track of this album is Trouble. I really like this song or its piano parts. It also make a great song for anybody to sit down and relax. The seventh track, Parachutes, is a quick forty-six second song. It's not really worth getting unless you really want to buy the full album. It's not really a bad song, though.

High speed is also a pretty good song from this album. It's also a really relaxing and laid back song. It makes me thing of an abandoned island surrounded by slow moving water whenever I listen to High Speed.

We Never Change is a slow song, and it's nice to listen to on a sleepless night when you need a quiet, relaxing song to make you fall asleep.

The last track, Everything's Not Lost, is actually two songs put together into one long track. It includes the track Life Is For Living. Both songs are worth listening to. What I really like about Everything's Not Lost is that it includes piano parts that add to the song. Life Is For Living has pretty cool acoustic guitar and drum parts to it.

Overall, Parachutes is an excellent album, and it deserves 5/5 stars. The songs in Parachutes are soothing, and they are nice to listen to when you just need to relax. Just like every other Coldplay album, Parachutes is amazing.
I love Parachutes as well as the other Coldplay stuff! They're such an amazing band! Parachutes almost feels like they're fresh and new. It's something I would definitely suggest listening to because it's a very nice album. My favorites have got to be Shiver, Yellow, Spies and Trouble. Four really awesome songs. Yellow is nice for a lover or a valentine, or just to cheer anyone up, so I recommend it whenever you may have a particularly bad day. Spies is a kind of darker track, and it gives me chills every time I listen because it's such an awesome song! I give this album a perfect 5/5, but if I could, I would give it a 5000/5!
So after listening to their 2011 album "Mylo Xyloto", I'm catching up with Coldplay's first album "Parachutes." I'd heard most of the tracks before but I have enjoyed playing it straight through for the first time. Interesting note on "Don't Panic": was played as a wake-up call to a pilot at the International Space Station in 2011. A good opening track, has a catchy rhythm that piques my interest for the rest of the album!

"Shiver" is one of my favorites, like Coldplay so often does it takes lyrics that are kind of down and puts them to a melody that always cheers me up. This track is VERY influenced by Jeff Buckley's music. Actually the first time I heard Jeff Buckley's "Grace" I thought, "This is creepy...this song is so familiar but I know I've never heard it before..." Finally hit me how much it reminded me of "Shiver"! Chris Martin has, indeed, confessed that "Shiver" was kind of a rip-off of Jeff Buckley; but since I like both singers I'd rather call it a tribute. :)

"Spies" is a really neat, almost eerie track ("And the spies came out of the water..."). I like the story that it's about celebs being stalked by paparazzi, or for us regular folks about nebulous problems in life you just can't escape from. "Sparks" is a nice relaxed song but not too spectacular.

"Yellow" is one of Coldplay's better known singles. An exquisite, unique love song, the title word is reported to have very little actual meaning, but the quiet beauty of the song strikes me every time I hear it. And while I know it was written a couple of years before he even met her, the song always makes me think of Chris Martin singing it to his wife, Gwyneth Paltrow.

"Trouble" is in a similar vein as "Spies", with a haunting minimalism to the music and lyrics of apology. At 0:46, "Parachutes" does about all it can in such a short time, a nice filler track. "High Speed" could use a little extra speed (or something lol) IMO, haven't been too impressed with it or "We Never Change", but I'm not as familiar with these two yet so maybe they'll grow on me.

The album ends on a great note with "Everything's Not Lost." The song to me reminds of something that would play at the end of a feel-good movie where whatever's gone wrong, it's encouraging you to keep going, everything's not lost. There's a nice little hidden track at the end too. Four stars for "Parachutes".