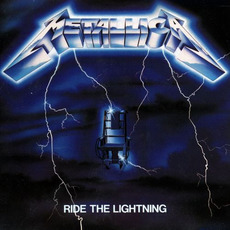 Ride The Lightning (Deluxe Edition)
by Metallica
Tracks
People who bought this release also bought
One can hardly believe that this staple in heavy-metal history, this behemoth of heaviness, complex, dark, moody, intelligent, is only Metallica's second album. It is by far my favourite.

The last album with legendary bassist Cliff Burton, it is a testimony to what Metallica could do when all the planets aligned and the electricity flowed through their veins. The album is a masterpiece and this, deluxe edition offered by mp3caprice is astonishing. It has more gems than Ali Baba's cave and that's saying something.

I am very certain that Ride the Lightning requires no introduction but, maybe as a reminder, let me describe what you are likely to encounter when you open the lid. Taking on no less that the subject of life and death, of crime and punishment, the album was released in the distant 1984 of the last century, by four 20-year-olds. I don't know about you, but at twenty, I was still trying to learn basic guitar chords, let alone compose symphonic-level pieces like Creeping Death and Fade to Black. In interviews, lead guitarist Kirk Hammett states that he wrote the main riff to Creeping Death at 17! The biblical motifs, however, are all James' and are done tastefully, thoughtfully and with conviction. His vocals are insane on this album and I am glad that Metallica didn't recruit Armored Saint's John Bush as intended. Nothing against the man, and I do like his work with Anthrax, but he cannot touch Hetfield's delivery here. Not convinced? Put on Fade to Black, let the waves of sonic pleasure caress your ears during the introduction and just listen to the opening lines:

"Life, it seems, will fade away
Drifting further every day
Getting lost within myself
Nothing matters, no one else…"

The poetry, the poignant sentiment and Hetfield's immaculate guitar playing, so precise that you cannot even hear the string scrapes as he moves across the chord fingerings. Light and shade, slow and fast, this song has it all – and that is before we get to Hammett's insane solo. My only bone to pick here is Lars' double-bass drumming. You have to really listen – with earphones on – to hear his rapid fire rumble underneath Hammett's solo! A small matter, and by then you are busy shredding away on that air guitar, so who cares!

This is not where the album ends, though. Ernest Hemingway, anyone? For Whom the Bell Tolls shows the band's heightened awareness of dynamics and ability to use gaps in order to make their music heavy. Lead-balloon heavy (sorry, Led Zep!) The bass lead performed by Burton is clever and tasty - as a composer and player his place in Metallica was never really filled! The album is about big riffs and you have an abundance of them, in all shapes and keys. Harmonised leads? Yes, we have them in stock. Fight Fire with Fire is the riff that any metal band probably wishes it had written. It is tight, charged and feels like a full frontal assault by an armoured vehicle. Yet again, it is the dynamics and sonic tapestries that make this album so special. There is a depth to the writing, which often makes you forget that this is a young band about to take on the world. Listen to the icy coolness of the Call of Ktulu, inspired by the horror stories of metal's favourite writer – HP Lovecraft (same one whose name is on Maiden's Live After Death album).

This in itself is enough to convince me to buy the album but the tonnes of bonus tracks make it obligatory to do so - again.