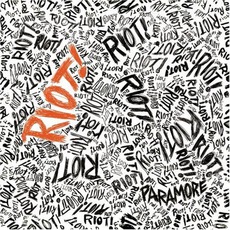 Tracks
People who bought this release also bought
I have lived this album for years now for a lot of reasons. This is one of those albums that never really gets old and I never get tired of hearing it. I think this is the best album from paramore because they had perfected the pop punk sound and they also had not yet become more pop oriented. And that is not to say that thier material is bad. That is only to say that Riot is by far my personal favorite album from them.

This album has aged far better than many simmilar albums that came out around the same time. It has stood the test of time because it is very relatable to a wide audience. Alot of pop punk bands from that time are not as relevant now because they were only relatable to angst tennagers and maybe people in thier 20's. And while that is all fine and good, paramore stands out because they are universally relatable in thier lyrical sentiments. And that is very clear on Riot. I think what I am trying to say is that as a band, paramore was more mature that most of thier contemporaries and were coming from a unique perspective lyrically that most bands were not. Paramore comes as angst but we'll spoken and justified in thier angst.

I think that is why I love this album. It is angsty but not in a such a way that I am listening to someone complain about what their life sucks and they aren't treated fairly by thw world at large. It seems so much more genuine and doesn't come across sounding shallow or petty. And I'm not saying every other band from that Era does come across that way, I'm just saying that it was the prevailing trend to make issues to be emotional about as opposed to really being vulnerable.

And if one word can sum up this album I think vulnerable would be it. And that is something the world need more of.
Paramore is a wonderful band, but in my humble opinion, it wasn't until "Riot!" that the group really started to gain their much deserved popularity. Rock bands with female vocalists are too few and too far between if you ask me.

Riot! Is fun because it has it's fair dosage of angsty songs, (like "For a Pessimist I'm Pretty Optimistic" or "That's What you Get") but at the same time, It doesn't prove to be an overall angry album.

The Angst in the album is balanced by the more hopeful songs "Miracle" and "When it Rains"
If you're looking for the best of Paramore, make sure you listen to their older stuff. since the Farro Brothers' Departure in 2011, the band hasn't quite been the same.
This is my favorite album of any I've ever heard! Literally. Not just of Paramore. I highly recommend it to anyone. Paramore is my favorite band. My favorite songs on the album are Born fot This, For a Pessimist I'm Pretty Optimistic, Misery Business, CruchCrushCrush, and Fences. They're all great. This album is definitely a must.

This is my favorite Paramore Album and the only one that I never skip tracks on when I'm listening. It also includes live tracks and demos. My favorite song is "That's What You Get" and I also love "Crushcrushcrush", "When it Rains", "Decoy", "Misery Business", and "For a Pessimist I'm Pretty Optimistic". There is a good mix of up-beat songs and balads and a few good angsty songs for those times when you're mad at the world (or maybe just mad at the one you love).