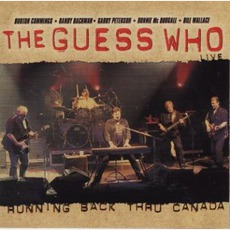 Tracks
People who bought this release also bought
Guess Who is one of those bands you might not think of often, but when you hear their songs, you realize just how many you know, and how much you enjoy them. This live set has an amazing energy, right from the very first note, and it is maintained throughout the entire show. All their hits are here, plus Taking Care of Business from Randy Bachman's other band, BTO. Even the songs you don't know will feel familiar, and have you singing or tapping or dancing along.

They start with a somewhat lesser known song, Running Back Through Saskatoon. If you couldn't guess, the band is from Canada, and proudly so. This song takes you on a trip, it has just an awesome riff, the perfect vibe to set for the rest of the show.

The first big hit they play is the third song, These Eyes. It's a mournful, regretful tune, but played strongly enough to make you forget that fact. It also starts to give you some insight into just how creative the band is. They will later go heavily into jazz territory with Undun, and of course, they will hit the hard rocker American Woman. In true jazz style, they don't confine themselves to any one style, they don't tend to repeat themselves musically. While they play the show with a continuous, sustained energy, the songs they play come from all over the place; Share the Land is a folk song, some of the tunes borrow from country.

No Sugar Tonight/New Mother Nature is a highlight for me. This dual song combo has always been a favorite, and it's almost like there are two bands playing at once; they just happen to be in synch. It's such a unique, creative song, and they just nail it here.

They close the show with a pair of classics. First is No Time, with its aggressive rhythm and almost angry vocals by the end, this builds the crowd into a frenzy, before the relaxed Share The Land settles them down when it's time to go. They masterfully placed every song in this set for maximum effect, they know when to kick it up and when to bring it back.

I enjoyed this album even more than their greatest hits collection, which is also fantastic. Music fans should definitely listen to this whole show, in sequence, to get his great the band really was. You'll hear a variety of different musical styles, some excellent drum work, hard guitar riffs, great vocals and piano. I can't recommend this show enough, it's a real hidden gem.