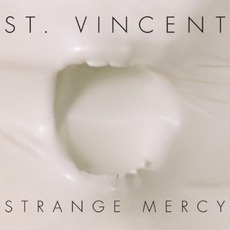 Tracks
People who bought this release also bought
Annie Clark may be one of the most brilliant musicians in the industry right now. Her lyrical and sonic narratives are, in a lot of ways, unparalleled. Her distinctive guitar work and what would become her most recognized style is truly solidified on this record. Whether you be discussing the power-pop masterpiece "Cruel", arguably the albums most popular track, or the album's title track, each different sonic direction is approached with the same level of artistry and sincerity.

As an artist myself, Annie Clark has created something that I, in all sincerity, wish that I could've taken credit for writing. She manages to be distinctive and idiosyncratic while still incorporating all of these different parts into a cohesive whole. She creates something that is equal as infectious as it is poignant. Her voice is paradoxically ethereal while ringing resonant with a lot of things that I feel and have experienced.

"Strange Mercy" really is a contemporary masterpiece.