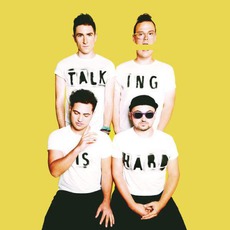 Tracks
People who bought this release also bought
My kids LOVE 'Shut Up, and Dance.' For me, personally, it takes me back to the 80's. It has a great beat. My daughter like the one she calls, 'We are the Kids.' Overall, for the album, it is nice. I only gave it 4 stars because, although good, I don't necessarily like every single song.
These guys have a cool vibe and sound about them, and this album does a good job of showcasing that. This is a good album with that nice, poppy feeling that makes you want to move! Walk the Moon is not my favorite band, but there is something that they have that keeps me coming back and listening to their music. They have a sound that is uniquely them. I also think the lead singer's voice is just nice to listen to. I picture these guys as a "top down, open road" type of artist. I just feel like these songs make for great summer road trip songs.

My favorites on the album are: "Shut Up and Dance", "Different Colors", "Sidekick", and "Up 2 U".

"Shut Up and Dance" is probably the most well known song from these guys, as it was a huge radio hit for several months. It is catchy song with a meaningful lyric about just getting lost to the sound of the music.

Even though "Shut Up and Dance" was a mega-hit, I don't feel like these guys are one hit wonders by any stretch of the imagination. Several of these songs on "Talking Is Hard" are radio-worthy, and just as catchy as "Shut Up and Dance". I think these guys will continue to do well in the future through more great releases, and I can't wait to see what they have in store for us all!

Overall, I'd say this is a great album. Maybe not the album of the year, but still a solid buy for anyone who loves that pop-rock sound! I'd say buy it!