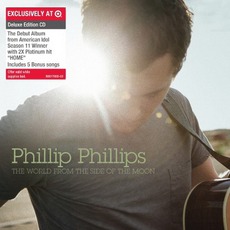 Tracks
People who bought this release also bought
Great combination of studio cuts and some concert cuts. I saw him a while ago. These live cuts match the excitement I saw at his live show. He's so young but both the studio cuts and live cuts are a great listen...even to this 60 plus listener. "Home" never gets old. The follow up[ Gone Gone Gone shows he's more than a 1 hit wonder.

His live show has lots of growly rock and it's all here.
and a nice surprise on this Target Deluxe album is the addition of Thriller...yes..that Thriller.
This album rocks, its gentle and it growls plus has some genuine fun. Highly recommended.
Most recent "Idol" winner and Georgia native, Phillip Phillips' new album was released in November. At only 22 years old, his gravelly and soulful voice are irresistible. His style is a hybrid of Dave Mathews band meets Mumford & Sons- blending old and new. Although, from an artistic standpoint, it is one of the best releases from an "Idol" winner- it is a little over-produced for my taste. The single, "Home" has been featured in several commercials and has seen a high level of radio play. The track "Drive Me" is more representative of his stint on the show.