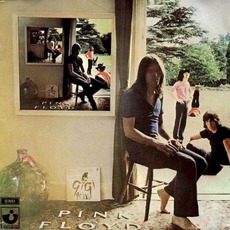 Tracks
People who bought this release also bought
This double album came out some four years before Pink Floyd became world super stars with the success of their album Dark Side of the Moon. It is made up of a live album and a studio album, the live album featuring four tracks, each of which are better than their original studio versions. It opens with Astronomy Domine originally from Pink Floyd's debut album Piper at the Gates of Dawn. They manage to add more life to this version. David Gilmour does justice to what was originally a Syd Barrett song while Rick Wright's keyboard solo here it totally amazing and has the power to draw the listener in so that they notice nothing else.

Next comes a chilling version of Careful With That Axe Eugene which leaves the original version for dead! Starting off in a slow yet unsettling manner it breaks out into chaos following Gilmour's "ARRRRGGGGGGHHHHH!"

Then there's Set The Controls For The Heart Of The Sun, originally from the Floyd's second album A Saucerful of Secrets. Again they manage to improve on the original version. The live album then closes with a breathtaking version of Saucerful of Secrets, title track of their second album. Nick Mason's drum solo here is truly phenomenal; Rick Wright's keyboards are very moving while David Gilmour's charismatic vocals at the end really steal the show! This CD manages to show just how brilliant Pink Floyd were live, while unlike their later work which becomes dominated by their leaders this album allows all four members to demonstrate their talent with flair! It's just a shame that there aren't more official live recordings of the band from this period.

The studio album is a very different idea of which I've not heard any other band attempting. Each member was given half a side of the record to do solo performances. This is further evidence that all four members possessed invaluable talent and they all have very strong tracks on offer. It begins with Rick Wright's four-part masterpiece Sysyphus. Using pianos, keyboards and organs he achieves some astounding sounds.

Roger Waters contributes two songs. Granchester Meadows, a beautiful acoustic piece with some birds chirping in the background and the very weird Several Species of Furry Animals Gathered Together in a Cave and Grooving With a Pict.

David Gilmour offers the dark and spacey trilogy that is The Narrow Way and Nick Mason closes the album with The Grand Vizier's Garden Party trilogy which mixes the clarinet, drums and some other curious sound effects.

This is no less than a masterpiece! The live album is without a doubt the best official live release that Pink Floyd has ever put out. While some may say that the studio album was a case of the whole being greater than the sum of its parts it is nevertheless a creative effort in which all songs impress.