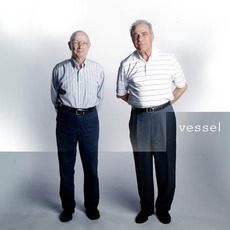 Tracks
Also by Twenty One Pilots
People who bought this release also bought
After buying Blurryface I was very curious about Vessel. And I have to say, maybe this album is better than Blurryface.

The fusion of hip-hop, rock, rap, house and slow is magic. From the beginning to the end. A beautiful album.

Most delicious songs are; House of Gold, Car Radio, Screen, Guns for Hands and Forest. To end the album with Truce. I like it so much.

One of the best groups at the moment. I believe.
I've discovered Twenty One Pilots recently, and since then, they have become one of my favorite bands. The first thing that intrigued me about them was their unique style, kind of a mix of rap, hip-hop, and alternative rock. It's definitely captivating. After listening to their music for a little while, I began to actually hear the lyrics, and realize their meaning. Most of Twenty One Pilots' songs deal with a lot of deep issues, such as depression, anxiety, and suicide. However, even with their dark themes, there are still positive notes in them, that encourage the listeners and make them feel as if despite their weaknesses, they are still ok.

In the song Guns For Hands, behaviors such as self-harm are described, but then the song ends in the remark that people who struggle need to put their energy into fighting it.
Also, in the song Fake Out You, it is sung, "Our brains are sick but that's ok"
These kinds of lyrics give hope to listeners, which make Twenty One Pilots more than just a band; instead, they turn into an inspiration.
One of the best albums you'll hear. My opinion, you will struggle to find another artist who puts so much meaning and heart into the songs they write. It's very rare that I find an album that is good from beginning to end, but These guys have done it with this album.
I think everyone knows them from "Car Radio", which they played on a music awards show a few years ago. I was introduce via this song just by chance, and I am so glad. This music is so good.
These songs deal with some light-hearted topics, but avoid the deep dark topics of things like depression as well. The thing I like about 21 pilots, is that their songs seem to start with bleakness, but turn into hope and victory over depression, which I think is awesome.
Not to mention, it's very hard to put a label on what genre this music is, because they are so unique in their sound that they can't be confined by any one genre.

If you have ears, you will love this album. Buy it.
This is one of the best albums I've heard in a long time. Very different than whats out there right now. My husband took me and our 2 girls to see Fall Out Boy (which were awesome) and 21 Pilots opened for them and they blew us away!! I came right home and downloaded this album. Love what they have to say in their songs!