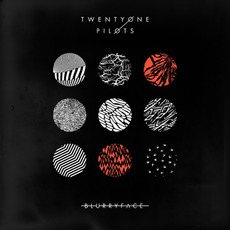 Tracks
Also by Twenty One Pilots
People who bought this release also bought
I didn't knew them before this year, but man am I glad to have found there music. The album Blurryface is seriously one of the best albums I ever listened.

So for me it receives 5-stars. The first 3 songs will smash you right there. Heavydirtysoul, Stressed Out and Ride are 3 topnotch songs.

But I think there aren't any bad songs on this album. I love the way the end the album with Goner. How a beautiful song. Also I never feel the put in a song, just to fill the album. So im very excited about Twenty One Pilots. And I think we aint seen there best yet.
Blurryface is TOP's latest and greatest album. It contains plenty of bright and energetic outbursts and it never gets boring. This may be the greatest album ever since Coldplay's A Rush of Blood To the Head (#NOTSPONSORED and CP album is just an opinion)

Heavydirtysoul

The opening track of the album has verses with fast rapping that sounds a little agressive (It's not to do with the lyrics, just the way the music sounds. The chorus changes the groove a bit, adding small elements of soul to the mix. The song does a top job at setting the mood for the rest of the album.

Stressed Out

The lyrics in this are very clever. It describes the time long ago, when not a lot was important to you and nothing really mattered, in a similar way to Queen's These Are the Days of Our Lives. The music sounds bouncy and semi upbeat (the tune sounds serious). This song is a hit, and believe me, it deserves to be!

Ride

Another hit. I think this is OK, but it could be a little bit better. The highlight of this song is the change part, you know, the bridge? I don't know how to describe it. The part that also finishes the song. It is soft, slightly relaxing
and even a little bit pretty. Apart from that, could do better.

Fairly Local

One word: EPIC! Plenty of awesome drops throughout. The thrill of the sound never stops. I here the music video for this is really good, too! I should check it out.

Tear in my Heart

Nice. The chorus has bright bursts and there is a smooth change part in the middle. Definitely a feel-good song.

Lane Boy

I like the chunky musical structure of this song and the drums and keyboard sound high quality. As usual, the lyrics are very creative. Nice One!

The Judge

At first, I thought the song sounded boring. I stopped listening just as the singing started; It didn't amuse me. Then, ages later, I finally made the effort to listen to the song all the way through. It was then I realised how upbeat and brilliant it was. It is now my favourite song on this album. ⭐️⭐️⭐️⭐️⭐️⭐️⭐️⭐️🌟🌟

Doubt

Sadly, this song really bores me. I am sorry, but this song doesn't have any real decency 🙁

Polarise

This song is a lot better. It is very bouncy, but gripping to. Me Likes!

We Don't Believe What's On TV

A fast, light hearted song (the music feels good, but the lyrics aren't so).
You will enjoy it if you are feeling energetic.

Message Man

The verses have that familiar bouncy feel, but the chorus is more hard and aggressive-sounding. A song for cool pros!😎

Hometown

Brilliant and bright. Moves fast and makes extended use of vibrant synths, something that I really like. Try listening whilst driving at night.

Not Today

The soul sound is coming back again. If you are feeling groovy, this song could quite possibly be your jam!

Goner

The best ending an album has ever had. It starts soft, and then builds up tension until the end, where it goes quiet for a moment, then the drop comes in. It sounds powerful and emotional. It is also my 2nd favourite song on the album.

All in all, a great album (except track 8)

Please remember, this is just my personal opinion, so you have the right to disagree with me completely.
Once I've heard the song Stressed Out, I've had to find and listen to every other song that these guys've made.
I am blown away by the fact that none of the song is bad or just not as good as the others like it can be seen with other artists.
It just seems like the songs in this album are in perfect harmony.
I've listen to this album over 30 times now and i still love it to death,
so if there is any artist you should spend your money on it's these guys.
This album is hands down one of, and in my opinion is, the best albums of 2015. I barely have words to describe the amount of talent these two guys have. "Blurryface" is a masterpiece of an album, it is a piece of art. This is what music is supposed to be. It's supposed to be catchy and toe-tappable, but where other artists lose it is that music is supposed to have meaning, to have substance, and unfortunately a lot of music today doesn't. Thankfully there is Twenty One Pilots to give us true music! In an industry all about money and the next big thing, Twenty One Pilots just make music from the heart, by giving us a look into the mind of front man Tyler.

Every song speaks about different aspects of the mind and emotions.

"Heavydirtysoul" is about someone who is filled with negativity and fear, and is crying for someone to help by asking "Can you save my heavydirtysoul?"

"Stressed Out" is the song of the year. There has not been a song this lyrically and instrumentally good in ages. It talks about growing up and facing the realities of adulthood, and how we all wish we could just turn back the clock to the days when we didn't have to worry about bills, college, work, etc., when we were just kids playing in our tree houses.

"Fairly Local" is about someone who is dealing with either depression, anxiety, self doubt, or whatever it may be, and it's Tyler's way of saying he's been there too, he knows what it's like.

"Tear in My Heart" is a song to Tyler's girlfriend. It's probably the song with the least meaning on the album, and yet it is still filled with so much meaning!

"Lane Boy" is all about people who tell you to just stay low, or "in your lane" in life and not try anything risky, don't reach for your dreams, just live and die and be done with it. This song is an anthem saying "No" to those very people.

"Doubt" is a song about how even when we doubt God and his plan for us, we still need him and know that he's got everything under control.

"Not Today" is about kicking depression and anxiety in the behind, and saying "Not Today!" It's an anthem about having victory over our minds and the fear that tries to creep in, and fighting back when we feel negatively about ourselves.

"Goner" is slightly similar to "Heavydirtysoul" in that it's a cry out to God. Tyler is saying in the song "I'm a goner, somebody catch my breath". Like the other song, he is asking for help, knowing he can't make it through life on his own strength.

This album is a fantastic addition to anyone's music library. These guys may not get the air time that other artists get because they make songs with meaning, and the radio just doesn't seem to like songs with meaning these days, but that's fine, because they don't need the radio. These guys are just fine without it. I can guarantee you these guys will continue to make hit after hit after hit. Every song they make is fantastic! I'd choose my favorites, but honestly, and it's rare that I can say this, I like every single song on there album from start to finish! Pick up this album and experience what you have been missing out on for so long!