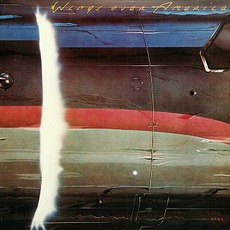 Tracks
Also by Paul McCartney & Wings
People who bought this release also bought
Wings over America has to be one of the best live albums ever !
Wings sometimes gets a bad rap. This is mostly because it was kind of seen as the successor to The Beatles, which it most certainly was not, and partly because it involved Linda McCartney. But the group had five straight number one albums, and numerous hit singles. And, as evidenced by this set, they were a great love band...mostly.

Wings Over America was originally going to be a two record set, collecting the best songs from the tour. But a bootleg went around that had three discs, and it turned out to be very successful, so Paul McCartney decided to go for three discs. It would be a full set list, with each song being the best performance of that song from the tour. Still, with all this source material, overdubs were used with several tracks, reportedly because "some people were singing out of tune" (read: Linda).

But this does nothing to tarnish this album. McCartney is a consummate performer, as long as he has even competent musicians being e him, he'll put on a great show, and Wings are certainly more than simply competent. By this time, 1976, Wings had quite a selection of material to choose from. They did get in five Beatles songs. At the time, a big stir was caused when McCartney credited these songs as having been written by McCartney-Lennon, instead of the usual Lennon-McCartney. The Lennon camp reportedly didn't care, but the press had a field day.

It starts off in a great way, Venus and Mars/Rock Show into Jet. It's a high energy opening that really sets the time for the show. Highlights from the first disc include Maybe I'm Amazed, one of McCartney's best from this time period. There's also a pair of Beatles tunes in Lady Madonna and The Long And Winding Road. The other three Beatles songs come in another cluster on the next disc. I find one of the highlights to be I've Just Seen A Face, a criminally underrated tune. It's a fun song, and even with the overdubs, you can hear Linda singing. Bless her heart, she was just not a good singer, especially when put next to Paul every night.


The end of disc two and the beginning of disc three are maybe the best Wings songs in Listen To What The Man Said and Let 'Em In. McCartney was great in this period with noon-traditional song structure, he didn't settle on verse-chorus-verse-chorus-bridge-chorus in most of his songs. This is of course front and center with Band On The Run, a song that completely change arrangements three times within the first two minutes. Wings gives a fantastic rendition here, sticking close to the original, but with just enough slack to make it interesting. The final song is what I find to be an odd choice, Soily. This was never a favorite of mine, but the live performance has kind of grown on me.

It's not the least bit surprising to learn that Paul McCartney is a great performer. And in many respects, he feels on top of his game in this set. His voice has a freshness to it, an energy that can only come from someone who truly enjoy what he is doing. This is taken from a series of love shows in the 70's, so the sound quality isn't perfect, but there's nothing in the quality that detracts from the overall performance. The set list is great, the band is fantastic. Maybe there is one backing vocalist that is in over her head, but that can be forgiven. This is a gem, a pleasure to experience, if you weren't there, it will make you wish you had been. I highly recommend this set.