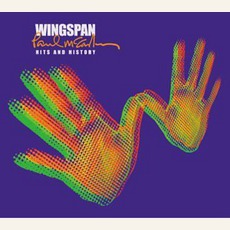 Tracks
Also by Paul McCartney & Wings
People who bought this release also bought
This set is broken into two sections, each one disc: Hits and History. The first disc is all the songs you hear on soft rock radio, you know all of these songs, but maybe never thought about the artist. These are great songs, and for all the detractors who put down Wings because they aren't the Beatles, take a listen: they are their own band, and they made some great music.

The second disc is History; these are songs that you might not be familiar with, maybe they were singles that didn't catch on like the first set, but they were either concert favorites, or they were band favorites. You may know Maybe In Amazed, but take a listen to songs like Let Me Roll It, Venue and Mars, and Helen Wheels. If you still don't get it, take a listen to Wings Over America, and you'll feel the energy these songs evoked. Sure, we could do without The Lovely Linda, but unique songs like Junk and Rockestra show the diversity and creativity of the band. This is a great set, especially as a companion to the live album. If you like Paul McCartney and/or Wings at all, you'll really enjoy this set.
Here is rock royalty!!! Paul McCartney has certainly had a prosperous career. Over 40+ years of music has sprung from the mind of this musical genius. He would still be rivaling John Lennon, if Lennon hadn't died in 1980. Out of all the Beatles, Paul was always my favorite because he played multiple instruments and experimented with different musical genres.He made lots of hits with the band Wings. He also has the title song that was in one of the 007 movies called "Live And Let Die". This song was so good the band Guns N Roses did a remake of this song. Also another remake of a Wings song was covered by Rick Springfield (Jet).Paul McCartney has also did duets with other big names. Probably the biggest duet was called "Ebony & Ivory" with Stevie Wonder. He also did a duet with the late Micheal Jackson called "Say Say Say".