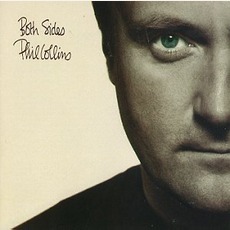 Tracks
People who bought this release also bought
For me, as a very big Phil Collins fan, this was the album that saw him turning in a direction that I did not want to follow. His prior albums had these great mixtures of styles, incorporating rock into pop, a bit of jazz, an instrumental, some R&B. This one feels like a full tonal shift; the whole album is an adult contemporary/soft rock piece. Not to say that it's necessarily a bad genre, it's just not what I want out of Phil.

Up to this point, Collins could really do no wrong. His music, be it with Genesis, his solo work, or his frequent contributions to other artists, was everywhere. So for this, his fifth studio album, Collins wanted to do something a little bit different. He did everything on his own for this album; played all of the instruments, did all the writing and producing himself; he eschewed his usual collaborators such as Hugh Padgham and guitarist Daryl Steurmer for the first time to this. He is, of course, a ridiculously talented musician, so everything sounds fine. But I find the guitars to be lacking something...there is no edge, no hint of rock, they are just fine throughout the album, which makes the whole thing somewhat stale.

The lead single was the album titled "Both Sides". This is a Collins specialty, a social commentary that is unusually heavy handed, even for Collins. The lyrics simply suggest that we shouldn't make assumptions about those in bad situations. Again, the music just lacks something. Collins likes to use a drum machine to write his music, this feels like everything was a machine...it's technically perfect, but just lacks that intangible hook.

"Everyday" is probably the best song here. It's a slow, soft rock ballad that does what it sets out to do. "We Wait and We Wonder" is another attempt at being socially conscious, a political song notable for Collins playing bagpipes(!). "Can't Turn Back the Years" is a reflective song, again it's fine as an album track, but not that exciting. These singles did ok, but time has not been good to them; retrospectives on Collins' career skip over this album and go straight to the Tarzan Soundtrack, where he seemed to regain his edge.

Nothing on this album is bad, but nothing really stands out either. It all feels the same, nothing stands out, nothing feels up to his standards. This album reached number 13, mostly on goodwill from his previous work, but this was really not his best effort. Any of his previous albums are a lot more interesting than this; if you had to skip one of his solo albums, this would probably be the one.