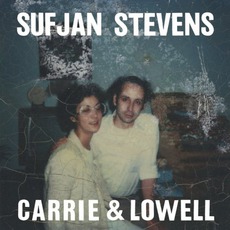 Tracks
People who bought this release also bought
Have you followed Sufjan Stevens' releases closely, his seventh album certainly surprise. 'Carrie & Lowell' occupies as a completely contrapuntal position relative to, for example greatness madness behind his project to record an album for each of the US states and the corresponding megalomaniac, hectic and downright hysterical sound that has marked his recent output - from ' The BQE 'over' All Delighted People 'to' The Age of Adz '.

This is a return to the roots people - an introvert, personal and even autobiographical album, inspired by Stevens' mother's death in 2012 and named after her and his stepfather.

Thus you have to just tune your ears in when they first Spartan, gentle tones from 'Death With Dignity' hits one, but it does not take long before you are with. Stevens has admittedly been in these stripped-down, people-territories before, but his previous output in the genre, such as 'Seven Swans', have often had more barbs than 'Carrie & Lowell', as in all stages indisputable is an extremely enjoyable album to listen to.

Accompaniment provided to his consistent double-tracked vocals moving here as rarely very far beyond the muted tones of the piano and guitar, sometimes shrouded in clouds of reverb or other effects pedals. As a listener, one can float fine with the flow here, but you relate to the lyrics, you soon discover that the personal should be taken literally. Very few who would dare to be so brutally honest to include a line like "you checked your text while I masturbated' on 'All of Me Wants All of You '.

But in light of the album's intimacy and pronounced lack of arm's length to the artist and the man behind it, can 'Carrie & Lowell' be an almost amazing unauthorized listening experience - perhaps because the root note is so meditative.