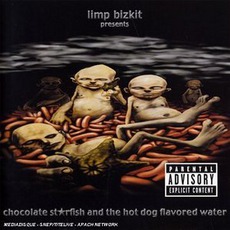 Chocolate Starfish And The Hot Dog Flavored Water
by Limp Bizkit
Tracks
People who bought this release also bought
This album came out when I was just a kid. I didn't really spend much time on it as a teenager, but my appreciation for a lot of it has grown greatly since then. When it comes to the sound of "Chocolate St*rfish & the Hotdog-Flavored Water" itself, this album brings in some elements that were notably absent from "Significant Other." Synthesizers have a larger presence on this album (for instance, tracks like "Getcha Groove On") while Wes Boreland's guitars and John Otto's drums have grown more intense and punchy. Wes' guitar sound reminds me of a lot of seemingly incompatible things, like little green martian-men and drug culture... Okay, maybe those two things aren't entirely incompatible. XD

Anyway, there's a general "lack-of-trying" feel to a lot of Wes' writing (not to be confused with his playing, which tends towards the complex, dynamic and harmonic, especially on this album.) A good example would be "Livin' It Up," where the wacky-sounding verse guitars bring to mind scenarios like stumbling around intoxicatedly, giggling uncontrollably to oneself about something not nearly nearly as funny when clean and sober, if you can even still remember it by then. Still, it's more complexity than one can usually expect from a rap-metal guitarist, and Boreland has always been one of my guitar-idols. On the other hand, there's some truly visceral writing in the choruses with a focus-narrowing effect that always seems to snap one back from their hypothetical stupor. Wes is good at taking you places like that. He knows how to tell a story with just clean-tone, overdrive, a handful of effects and guitar-tricks, and the notes on the fretboard.

My favorite track on this album has been "Boiler," for as long as I've been paying enough attention to it to have a favorite. The turgid, grungy, swollen overdrive on the guitar as the intro builds-up to crescendo is truly immersive (especially in high-quality audio,) and the punch packed by the guitars, drums and bass when the latter two finally do come in is tremendous. I love the contrast of the song, between the brooding ambience of the verse music and the raucous, fit-throwing slugfest of the choruses, and finally the retrospective glimmering of clean guitar with delay (the echoing effect) that follows the final "WHY!?!?!?!?!" in the last chorus, like an exhausted resignation to defeat and the realization that one's previous struggle wasn't worth the energy it cost. The video for that is pretty interesting too, if you've got a strong-enough stomach to handle the content.

A close-second for me would be "My Generation" because of Wes' massive guitar solo. The verse guitars in that song are definitely reminiscent of moments in "Significant Other," with a "busy city street" kind of vibe. I appreciate "Take a Look Around," but mostly because it's based on the classic theme from "Mission: Impossible." Wes, John and Sam really did that some modern-day justice. I could really do without Fred's vocals on that track, though, and much prefer the instrumental version of it that I found years ago.

I was less impressed with other songs from this album. "Getcha Groove On" felt like it was trying a bit too hard to get hip-hop-radio attention, and not really true to Limp Bizkit's style. Too much synth, and I don't think Boreland is even on that track. The "Urban Assault Vehicle" version of "Rollin'" was nothing about which to write home, either. However, any dissonance I might have experienced from those tracks quickly alleviated itself with the addition of "Hold On," in which Scott Weiland makes an appearance. The latter is soft, reflective and ambient throughout, and makes a nice rest from Fred's usual barrage of "HEY YO MY BANK ACCOUNT'S ALMOST AS BIG AS MY EGO! Chyee-uhh!! o.O"

Overall, Chocolate Starfish gets three stars out of five from me, almost four. Not their best work, but still way better than some.