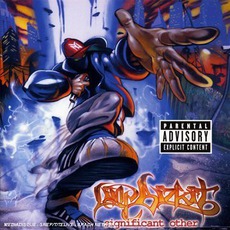 Tracks
People who bought this release also bought
This is one of the real "classics" of rap metal music. It just wouldn't have been the late 90's and early 2000's without Limp Bizkit's carelessly-offensive brand of in-your-face egoic heaviness. Those who know me get to know the fact that while Fred Durst does not rank highly on my list of highly-evolved human beings, as a guitarist I damn-near worship almost every sound that's ever come out of Wes Borland's amps. Anybody who ever said the music behind rap or rap metal is never very interesting, clearly never heard Wes play. This album set a new precedent for Limp Bizkit's work as their first really mainstream record, and while some say they sold out, I find this found their sound better organized and as a result, more accessible. "3-Dollar Bill, Y'all$" had some decent stuff, but this album definitely had more "keepers" for me.

My favorites (in order of appearance)...

"Just Like This" - Excellent guitar work by Borland here. It's your standard "look at me, I'm so great!" song in general, but the music is good enough that it'd easily stand on its own even if it were instrumental.

"Break Stuff" - As someone who's dealt with plenty of anger issues in life, this song has been a real help to me. The threatening, explosive (and expletive) nature of the song stimulates a sort of psychological catharsis ("blowing-off steam") just by listening to it. Musically, it's one of the simpler songs they've done, but the guitar is rusty and grungy, the beat clearly means business, and that keeps it listenable. Maybe not constantly, but if I'm listening to the album, I'm probably not skipping this track.

"Re-Arranged" - This is generally a calmer song, but it still has no lack of brooding. The clean-tone nature of the first few sections of the song leaves plenty of room for Borland's signature active, fretboard-wandering sonic-experimentation, and the crescendo brings in some heaviness to take it to the next level nearer to the end. And the extraneous jamming between Wes, John, Sam and Lethal that occurs at the end both provides some nice "falling action" to keep it from dying-off abruptly, as well as illustrating very descriptively the sort of dark, resentful and private head-space that forms the theme of the song in general.

"I'm Broke" - This is one of my favorite of Limp Bizkit's heavier songs. Especially once the bridge comes in ("YOU SAID YOU'D PAY ME BACK..." etc) and Wes starts assaulting your ears with that warped, flippant, psychotic guitar riff. Moochers beware! o.O

"Nobody Like You" - The guitars in this are absolutely TURGID. Also, the addition of Jonathan Davis (vocals, KoЯn) and Scott Weiland (vocals, Stone Temple Pilots and later Velvet Revolver) is more than enough to get fans of oldschool heavy music excited. I've become aware that Limp Bizkit generally doesn't like solos, so Otto's extended drum soloing towards the end of the song is a rarity that should definitely be noted and enjoyed.

"No Sex" - I was glad to hear my hero Aaron Lewis (vocals, guitars, StainD) show-up on this track. I've had mixed feelings about its message in the past. At first glance it seems to promote the idea that sex is dirty and ruins the potential for more "wholesome" relationships. If that were the meaning of the song, I'd have just dismissed it thinking that Fred needs to rethink his social sensibilities. But the key is in the first words, "went too fast, way too soon..." and "it's no good when ALL that's left is the sex." It's about a relationship that gets so sexually involved so quickly that any potential for a strong bond of trust and emotional intimacy is precluded. I can definitely appreciate how that situation sucks.

There are other songs I'd definitely keep ("N2 Gether, Now," "9 Teen 90-Nine" and "Nookie") but I'm not going to rave about them. They're worth a place on my playlist every now and then, though.
WOW. It's all I can say. Yes,I am actually surprised at how good this is. At least to me it is. The first few songs I have heard which were from different albums I didn't really like. This album has the songs I like. My favorite songs on here are "Break Stuff" and "Trust". Some really great songs on here. There are others that I like too. I am so happy that I have found this band because they are really good. Sad to see how music these days can't be like this unless it's from great bands like this continuing with there great work.The radio is complete garbage.At least most of it is.That is why I spend my time finding great bands from back in the days and listen to them all the time! I am loving this album so much I am going to buy it in Mp3 AND on CD as well. I have to check out some of there other work for sure! 5 STARS from me