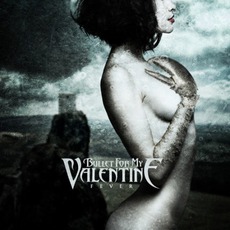 Tracks
Also by Bullet For My Valentine
People who bought this release also bought
This is a pretty decent Bullet for My Valentine album. Not as many big-hits with me as "Scream, Aim, Fire!" had, but still good. Even if they did so at the expense of some of their diversity, I feel like Bullet has really developed a streamlined style later on in their career. This is like... their third most recent(?) album at the time I write this, and they seem to be still going pretty strong with "Venom" having just dropped a few days ago.

Here's a bit on my favorites from this album...

"Your Betrayal" - The intro riff/solo/thing in the intro here is truly epic. I kinda wanna watch some kind of head-to-head fighter-jet duel with that as the background. It's so twisting, winding and spun-out. I wish they'd used that section more than just once in the song - maybe after the first chorus and before the second verse. And although it's definitely closer to Bullet's old "I KEEEEL YOU... =D" style, I still like it enough to keep it.

"The Last Fight" - Both the full-band and acoustic-piano versions of this are worth having, IMO. I like it because it's a song about finding the will to fight and beat addiction, whereas most people I've seen are more content to deny or enable or rationalize their addictions so they don't have to do the work to be free. The music video suggests this is one of those "songs I wrote to myself," even though the lyrics are in the second-person. Good riffs too, and the pre-chorus part reminds me of something much older than Bullet. Somehow it reminds me of really old gaming console music, and partly also of the story of Rocky Balboa.

"A Place Where You Belong" - Another song of mourning, similar to "Say Goodnight" from S/A/F but this one, despite being tonally less-dark, is a thousand times more heart-wrenching. Especially where they come to the solo. If I sort of "tune-in" to this song spiritually, it sets-off my heart-chakra like a bomb. If you've ever seen "Dragonball Z," it's like the "Super-Saiyan" thing. DX OVER NINE THOUSAAAAAND!!! Powerful energy that radiates and pours out from your center and fills every part of your being. Except without all the idiotic screaming. o.O It takes real sincerity to make that happen, so I can only commend these guys on this song.

"Bittersweet Memories" - This song is worth keeping, I'd say. It's not nearly what "A Place Where..." is, but it represents a feeling place I've certainly been socially before. It's that point where you realize, "Hey, you know, this relationship is too strained. It's not going to last. It's time to give up, if only for my mental health." It's probably the most mainstream thing I've heard them do in a long time, and the chorus really could've used a bit more imagination melodically speaking.

"Dignity" is another one that's listenable, though not really a world-class metal song. That's just about all I feel like saying about it. Check it out on YouTube if you want a preview.
Fever is my favorite album by this band and one of my favorite albums ever. Love the heavy riffs, melodic guitars, and clean, cutting vocals. This band does not make a bad song. Their lyrics are improved and definitely the best on this album. Awesome guitar solo in Pleasure in Pain ....I think I replayed that song a million times. The slower stuff is great too. I have great appreciation for top notch musicianship. The only other modern band that I like almost as much as these guys is Avenged Sevenfold (their latest album, Nightmare, may be their best -- go check it out).
It's their confident leaning on heritage-metal in particular that sets Bullet For My Valentine apart from local contemporaries Funeral For A Friend and Lost Prophets, but it's also that strength that holds them back.