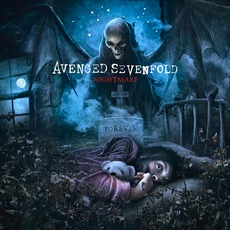 Tracks
Also by Avenged Sevenfold
People who bought this release also bought
While not necessarily Avenged Sevenfold's most diverse album, it is absolutely one of their most consistent offerings in terms of quality. Nightmare has less of the bloat that dogged the preceding self-titeld effort, while returning to the more aggressive stylings found on Waking The Fallen on several tracks. The masterful guitar work is front and center as is usual, and Mike Portnoy does an unsurprisingly stellar job filling in for the departed 'Rev'. Though Nightmare will probably not be the defining album of Avenged Sevenfold's career as it never provides the highs found on the breakthrough 2005 album City Of Evil, it is nevertheless another great addition to the impressive catalog of one of the best hard rock bands today.
This, in my opinion, is Avenged Sevenfold's SICKEST ALBUM! You have got scream-whispering, Heaviness and soft, soulful playing. Avenged Sevenfold, you blow me away like a tornado, with ALL of your musical art and intelligence! The best song in this album in my opinion is "Welcome to the Family". You all should try listening to it. I think it reveals, and adds a new peak to their musical intellect. R.I.P the Rev. Thanks Avenged Sevenfold, keep working as hard as you are! You are the greatest!
This is absolutely, their BEST album ever so far. It is heavy and soft... This is what you come to expect from the best, Avenged Sevenfold.
Wow. This is a must have for any Avenged fan. They bounced back after the death of their drummer The Rev and then some. They changed their sound a little bit. Its less heavy with a more melodic sound. I highly recommend it.