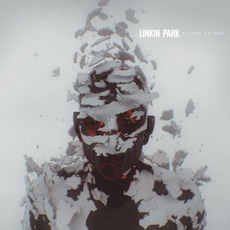 Tracks
People who bought this release also bought
This hasn't been my favorite of LiNkiN Park's work, but it's definitely got a couple worth keeping.

This represents a still-further evolution of LP's already well-changed sound. They still maintain, or some might say they've restored, some of their "hybrid" sound in the mixing of different and unrelated styles, but it still sets itself apart from the debut "Hybrid Theory." The most electronic I heard them get back then was record-scribbling and the occasional odd-effect like Mr. Hahn's keypad full of pure-distortion at different frequencies that he'd play like a drum in songs like "In the End." Even on "Meteora," the closest they'd get to a synthesizer was the distorted piano in "Numb." Now they've progressed into full-on synth-sound, which is clearly heard throughout the album in every (or almost every) track. I notice this synth-showcasing is often at the expense of space that would previously have been afforded to the guitars, and I don't really appreciate that. LiNkiN Park's guitar-presence was one of the things I loved so much about their earlier work.

I also notice that Mike Shinoda's rapping on "Living Things," as well as a lot of the beats engineered for this album, are decidedly more like top-40 material (which a younger Shinoda actively shunned in his lyrics.) Good examples of this are "Until it Breaks" and "Victimized." It feels so alien. Maybe he's decided that's the best way to express what he's been feeling lately, but I'm not a big fan.

Tracks like "Lies, Greed, Misery" turned me way-off - I couldn't even handle thirty seconds of that song before I had to next-track it. To me, that was just really flimsy and abrasive (in a bad way) material.) If this album were the fry-cooker at McDonald's, that song would be the grease-saturated, floppy, overcooked-to-dark-brown fry at the bottom of the bin that I dread ever being served. Also, "Castle of Glass," while easier on the ears than "L/G/M," felt much too poppy for me. People have accused LiNkiN Park of having grown too mainstream, and I generally don't mind, but that song was just outright commercial.

All that being said, as previously mentioned, I truly enjoyed some of this album. "Roads Untravelled" is very guitar-heavy and I know well the feeling and situation it conveys. It's a "life's really sucked recently and I'm tired as hell. But hey man, if you need a friend, let's support each other and try to find a different perspective on it all." I loved "Lost in the Echo" from the first time I heard it, and I still do now. A lot of those words are like a brief synopsis of the last year and a half or so of my life, with an outlook of hope, courage and newly-discovered inner-strength. "Burn it Down" and "Powerless" were pretty good work as well, although for me they were closer to the "neutral" end of the 'favorability' scale than the "absolute adoration" end. And then even though it was just an interlude/lead-in, I also like "tinfoil." But I will say that as short as it is, it's a good thing for LiNkiN Park's sake there are sites that only charge $0.12 for it.

Overall I give this neutral feedback. I like about one third of it, but it surely falls short of earlier "every-track's-a-keeper" LP albums.
This album is absolutely amazin, linkin park has come back to their roots and still kept some of the electro vibe they went with in a thousand suns. This album is their hybrid style and has something than new and old linkin park fans will enjoy
Linkin Park did not release a good album for a long while. This their latest album is briliant. The imagery they create with their music is fantastic and really gets your blood flowing faster
Linkin Park has come back. Giving us their original rock sounds that only Linkin Park can bring. This is an awesome album. I especially love the following tracks Lost in Echo, Burn it Down, Castle of Glass, Powerless, In my Remains, I'll be Gone and Roads Untravelled. This album truly shows how amazingly talented Linkin Park is. Track 10 is a Rap song titled Until it Breaks it has a good beat. If you are a true Link Park fan please get this album.