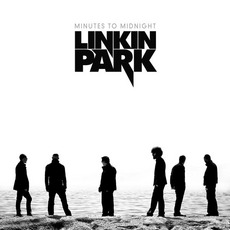 Tracks
People who bought this release also bought
This has been a pretty interesting LiNkiN Park effort. I would call this a milestone for them, since it marks a big stylistic change. They had obviously decided to explore the rock-side of their musical identity in a more mainstream way for this album. In at least one of the videos, ("What I've Done,") Chester kinda looks like Bono and I "don't know how I feel" about that. XD Anyway, this album wasn't as big a hit with me as those previous, in that I have a few assorted gripes here and there. Not a ton. Just a few.

I found "Wake" to be an interesting intro for them. It was much longer and more complex than "Intro" on [REANIMATION] or "Foreword" on "Meteora." Though it's short, I'll keep it since it makes a good introduction.

"Given Up" was the most unlike what I remembered of LiNkiN Park that I'd ever heard by that point. The difference isn't just in their style of writing/recording/mixing, it's also the far more blatant use of profanimaty (which I'm glad they finally started doing.) Finally, they're "cutting-loose!"

"Bleed it Out" is one of the tracks about which I can haz gripe. It's emotionally intense all the way through, but I the first time I heard it, I waited the whole time for it to "kick it in high-gear" with a stronger rhythm guitar sound and heavier drumming, only for that to never happen. It's like waiting for the shoe that never drops. Otherwise I would totally have bought this song.

"Shadow of the Day" trumps "Leave Out All the Rest" in its accepting, releasing and contemplative-ness. I love this song. Lyrically, it has the message of someone enlightened enough to have stepped back from the drama and looked at a situation objectively. It says, "Hey look, I'm done fighting with you and I'm leaving. You can keep on like you do, but it's going to end badly. Either give it up, or wind-up getting-yours in the end. Bye, now." Randomly, something about the guitar solo is just so American. I somehow keep picturing a flag flying on a sunny day when it hits that high octave... Okay, whatever. o.O Good riffs, though. And I love how it gently passes into the next track.

"What I've Done" is all about self-forgiveness. This is part of the completion of the cycle of self-actualization to which I've referred in my review of "Meteora." People grow from lashing out at others and projecting their own faults onto them, to turning their most brutal inquiries inside, accepting responsibility for themselves, then forgiving themselves and being kinder to themselves and others. It's been great to see this manifest in the boys of LP.

"No More Sorrow" is a brutal, heavy song and I love it. I think it was intended to be addressed to politicians, but I find it highly applicable to religion as well and that's what I'm thinking when I hear it. The guitars are crunchy and there's a nice strained, wailing quality about that signature-riff in the beginning.

I'm running out of room here, so I'm just going to finish by saying this is a 4/5-star album for me. Not an instant classic, but generally worth hearing.
A satisfactory album produced by Linkin Park. Not as stellar as there previous albums, but solid none the less. Linkin Park was trying to highlight their new sound with this album, it's never easy for a band to transition sound to sound, and Linkin Park is no exception. Though many of the songs on this album give us food for thought.

The first song is Given Up. A very traditional song by Linkin Park, showcasing the talent of Chester to add emotion to his award winning screams. A high volume rock song will give glimpses of the past, while still pointing toward the future.

The next song is Leave Out All The Rest. This is one of the songs where LP tries to transition to a more mainstream act. Though it is not a what LP fans are used to, they do deliver a very calm sound that one would not hesitate to listen to.

Another song that has the same LP sound to it is Bleed It Out. Combining the rock and rap genre that LP fans are used to. This song definitely will draw in the fans from the past while not upsetting the newer flow.

Shadow of The Day is probably the highlight song of this album. This really gives us their full attempt to move from the rock genre into an almost hybrid sound between rock and R&B. Though many fans do not like this new style, Shadow of The Day is not a let down in any way. LP delivers with this song, and probably have expanded their horizon in listeners.

The last song is In Pieces, the perfect mixture of what LP is trying to do. Adding the techno aspect with a more serious sound, In Pieces brings this to the table. My personal favorite of the album.

All in all, a good album. The rest of the songs I did not list still have promise and just depend on the listener. Probably the last time a LP fan will ever hear something a close to Hybrid Theory as this is. Enjoy.