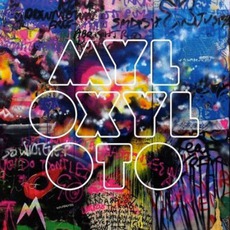 Tracks
People who bought this release also bought
I've listened to pretty much every song in every Coldplay album. I really like some of the songs in "Mylo Xyloto", especially because of the cheerful upbeat rhythm that the background music has. Coldplay seems to have changed quite a bit from their first album. This is really noticeable because the songs have more lyrics and a happier beat to them. Overall, the "Mylo Xyloto" looks like a pretty cool album.

I really like the song "Hurts Like Heaven". This song is really fun to listen to. But I would not waste my money on "Mylo Xyloto" (track 1) because it's really short and you can listen to "Hurts Like Heaven" without the beginning and it would still be fine.

I personally didn't like "Paradise" when I first listened to it. I had to sorta...get adjusted to it. But now it's my 2nd favorite song from "Mylo Xyloto." "Paradise" is a must from this album!

"Charlie Brown" seems like a strange song, but it's extremely catchy! And it's lyrics seem pretty meaningful, and the background music fits the singer's voice. "Us Against the World" is also a cool song, and it's probably the calmest song in the whole album.

"Every Tear Drop is a Waterfall" is an amazing song and is the second song with an intro sold as a separate track. The track is "M.M.I.X.", the sixth track in the album, and you probably don't want to get this one either. "Major Minus" is a strange song, but I really like it because of its weird lyrics.

My favorite song from this album is "Princess of China". Chris Martin and Rihanna sound really good together, and I really like how this song turned out. "Up in Flames" is a pretty relaxing song, and it's also pretty slow. People who like fast tempos probably won't like this song too much, but I personally think that this song is awesome.

"Don't let it Break Your Heart" is a fun and upbeat song, and it's the third song with an intro. I think this song is about as good as "Hurts Like Heaven". The last song, "Up With the Birds" isn't too great in my opinion.

I have to say that "Mylo Xyloto" is a pretty good album. The only thing that I don't like about this album is that the songs sound a bit alike, and the songs are a bit easy to get tired of. But I like most of the songs in it, and most of the songs are very upbeat and positive. This album deserves five stars!

I guess I'm a little behind the times but, "Mylo Xyloto" is the first Coldplay album I've listened to from start to finish. I do recommend it. It's nothing too new for Coldplay, a nice upbeat electro-pop album, but their sound is not tired yet and there are some really good tracks. All in all it is a very satisfying listening experience.

The opening track "Mylo Xyloto" might be tempting to skip at only 0:42, but if you enjoy listening to complete albums with tracks that flow one to another don't skip it! It transitions into "Hurts Like Heaven"; that title kind of belies the track's actually cheerful pop sound but I like it.

"Paradise" - my favorite Coldplay single at present. Love the contrast of the heavy backbeats and electronic sound with the more traditional violin and piano music instrumentals. Chris Martin does a beautiful job with the bittersweet lyrics.

I'll admit I haven't really 'gotten' "Charlie Brown" yet, I've listened to the album a few times and it never stands out to me. But hey, the critics liked it, and it was released as a single, so I'll keep trying it. Maybe if more of the "Peanuts"-inspired lyrics that are supposed to have provided the title were present it would make more sense. "Us Against the World" sounds more like "Parachutes"-era Coldplay to me. Doesn't have that synthetic flair the rest of the album has; mostly acoustic, simpler, slower, and beautifully genuine.

"M.M.I.X." is another one of those short tracks that gives an intro for "Every Teardrop Is a Waterfall." Best parts of that song are the guitar sections that sound like bagpipes. Very cool! "Major Minus" is probably the most 'rock' track track on the album ("Got one eye on the road and one on you!") "U.F.O." is a fairly short track but one of my favorite songs on "Mylo Xyloto". Exquisite in its simplicity.

Gee, what can I say about "Princess of China"? Chris Martin and Rihanna - well, never thought I'd hear those two singers on the same track. But, it's really not too bad. Very poppy. The album does slow down for me here, I'm lukewarm about the final tracks: "Up In Flames", filler track "A Hopeful Transmission", "Don't Let It Break Your Heart", and "Up With the Birds". First impressions are, this latter portion is not as strong as the first two thirds of "Mylo Xyloto" and that's why I'm averaging out my review as four stars.
This album is simply a masterpiece. The world needs more artists like Coldplay. I love pretty much every son on this album, but my favorites are Princess of China, Charlie Brown, and Every Teardrop is a Waterfall. I love how different Coldplay is from most popular music, and how meaningful their music is. I also love how they stuck to the type of music that made them famous, but came up with some new music that we haven't seen from them. I also love how passionate Coldplay's music is.This is probably Coldplay's defining album, and an easy five stars.
It's easy to claim you don't like Coldplay or at least easy to not admit you do... but you know sometimes you can't help yourself. Honestly i felt there sound was getting a little tired. And while you could never fault the song writing I felt that it was getting a little formulaic. But suddenly you get Brian Eno at the controls and all of a sudden it's all looking rosy. Building on Viva La Vida this outing dips it's toe into new waters with great results. And speaking of water... for me Every Teardrop is a Waterfall is worth the price of the album alone. My personal fav is Hurts like Heaven but hey! don't have my favorite - buy it and find your own!
Most Coldplay albums need a few listens before they get under your skin. I hated X&Y the first few times I heard it, but now it's probably my favourite. My play count of Mylo Xyloto is now up to 13 and I'm still finding it difficult to like the album.

The two stand out tracks for me are "Every Teardrop..." and the Rihanna collaboration "Princess of China". Everything else is just bland, sounding like an album of B-sides. And don't get me started on tracks 1, 6 and 12 - each one a waste of $0.12.

Chris Martin states that the album is a love story about two runaway lovers and that the end is very moving. I beg to differ. The album - uncharacteristically for Coldplay - seriously lacks emotional punch. Though not for lack of trying, the final two tracks are pale imitations of previous work.

Then again, maybe it's the 14th play that the songs start to get under your skin... Or the 15th... 16th...
"The day our albums come out I want to kill myself. Really, I feel suicidal…." Encouraging words from Coldplay's lead man – Chris Martin. It has been 3 years since Coldplay Released Viva La Vida Or Death And All Of His Friends, which became the biggest selling album of 2008.
Mylo Xyloto (pronounced my-lo zy-letoe) has no actual meaning, or so we have been told so far. So far its popularity has been confirmed with it hitting number one in the UK album charts this week (31.10.2011), so far so good.
It is a very different concept though; the album is bursting with instrumental pieces and lyrics that repeat throughout songs creating in effect a singular piece rather than an album of individual songs. Charlie Brown was the first song to be written on the album, which is made quite obvious with a listen. The song has the same feel as others on Viva La Vida with similar lyrical patterns. It sounds like a Coldplay classic that will be played on many a future tour for years to come. Other songs on the album take a very different feel, Brian Eno's influence is more dominant than the last album, his ambient swirls and looping sounds can be heard on a lot of tracks – in particular 'Hurts Like Heaven' which comes with a heavy dose of pop.
All in all it's a different feeling for Coldplay, with bigger pop influences, I can't help hoping that one day they'll really push the boat out and come up with something off the wall, because they are capable of it.
MP3 Caprice have also put up two of the singles:
Paradise
and
Every Teardrop is a Waterfall EP
Worth a listen to get a feel of the album – plus you get a bonus track on Every Teardrop!