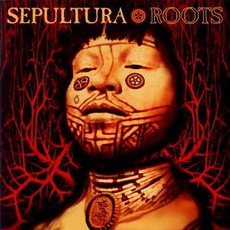 Tracks
People who bought this release also bought
I am a much bigger thrash/speed metal fan than I am an nu/alternative metal fan. That said, 'Roots' is by far my favorite Sepultura album. While it is their longest album, I find it also to be their most consistent, as I rarely skip around songs like I sometimes did on earlier efforts. It is not as fast as their other albums, even the slower 'Chaos A.D.', but it definitely has a lot of thrash elements. That's a big part of why it is so great: it bridges the gap between speed metal and alternative metal to bring the best of both worlds. In fact, without this album, I probably wouldn't have been able to get into bands like Deftones, System of a Down, and Korn (whose singer, Jonathan Davis, guests on one the album's best songs, "Lookaway").

As for the individual songs, all of them are at least good, but some definitely stand out more than others. "Roots Bloody Roots" is a brutal opener and nicely showcases the completely fleshed-out Brazilian tribal elements in the band's music. "Attitude" is also killer and was co-written by Max Cavalera's late stepson, Dana Wells. The crazy "Ratamahatta" features Carlinhos Brown and is sung mostly in Portuguese. "Spit" is a great faster song, too. Really, though, there is not a bad track on this album (save maybe for the rather boring hidden track "Canyon Jam").

All in all, 'Roots' is essential to fans of Sepultura, thrash/speed metal, and nu/alternative metal alike. If you're new to Sepultura, I wouldn't recommend this as an intro, as it may be a little bit hard to get into. However, it remains an amazing musical achievement and secures Sepultura's place as one of the best metal bands of all time.