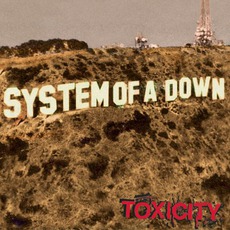 Tracks
People who bought this release also bought
System of a Down, much like say, Rise Against, attempt to pour as much of their criticism of society into their albums. It seems that the best way to do this for both bands is through a mixture of power-rock and heavy metal.

"Toxicity", System of a Down's third album (out of five), however, is probably the band's most accessible to date, and also presents the biggest array of songs that can be enjoyed by just about anybody. It is also the album that got me into this sort of music, and as such I can say on rather decent authority that it is most definitely worth owning.

The album starts out very strong with "Prison Song" and keeps up this level throughout the album for the most part, but the highlights undoubtedly include "Chop Suey", System of a Down's most recognizable song, the titular "Toxicity" itself and "Aerials/Arto". The latter represents the band's biggest attempt to deviate from their known, grungy style, but still ends up very pleasant to listen to.

The same can't be said for "Bounce", track number 7, which has the unmistakeable sound of Sergj losing his mind. It is the only blot on an otherwise close to perfect album, that is very much worth buying and listening to. Get it!
Toxicity is System of a Down's most popular album because it has the song Toxicity that starred on Guitar Hero World Tour. Chop Suey packs that good electric guitar sound, then it brings in to the heavy, darkness that you'd expect for a metal band. Congrats S.O.a.D, you are really kicking ass. Thanks Mp3Caprice, for having these great features and having them so cheap too!

GET THIS ALBUM!