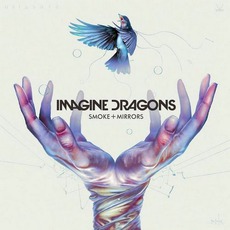 Tracks
People who bought this release also bought
I've pre-ordered the album and waited as it downloaded the day it was released. I was not disappointed at all and bought tickets to see them live. I love the varying paces set with slower songs like Hopeless Opus, Summer, and Dream. Dan Reynolds and the rest of the band also are brilliant in the faster and louder songs like Gold, Friction, and I'm So Sorry. This album is a must-have for any fans of rock or alternative music. The lyrics are inspiring and meaningful, you can tell from the tracks how much emotion they represent.
This is a great follow up to Night Visions. Imagine Dragons have certainly avoided the dreaded sophomore slump with this solid 2nd album. The pace of the songs on this album vary greatly, from a slower, more calm vibe like in the songs "Shots", "Smoke and Mirrors", and "Polaroid", to faster paced, sometimes chaotic songs, like "I'm So Sorry", and "Friction".
The lyrical content is very reflective, and it seems as if Dan Reynolds is repenting of past mistakes. He said in an interview that "I Bet My Life" is a song to his parents, so maybe some of the other songs carry that same meaning.
A great purchase for rock fans, as well as music fans in general. After Night Visions, I wondered how they would follow that album, as the bar was set very high, and they certainly did not disappoint with this release. A must buy album that you'll be jamming for a long time!