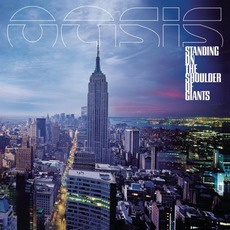 Standing on the Shoulder of Giants
by Oasis
Tracks
People who bought this release also bought
Making my way through a tour of Oasis's discography and am writing this review as I listen to their fourth studio album, "Standing on the Shoulder of Giants". I skipped the first track because of the obvious offensive language...so moving on:

"Who Feels Love" has a mellow, trippy '60s sound to it unlike anything else I've heard from Oasis yet, I'll revisit this one soon. "Put Yer Money Where Yer Mouth Is" has a really good beat to it. "Little James" is a sweet track with beautifully simple lyrics, written by Liam Gallagher for his stepson and his mom; kind of a bittersweet look at childhood. I loved it.

"Gas Panic!" is supposed to be about panic attacks Noel Gallagher dealt with after getting off drugs. It has a very haunting sound and consistent crescendoing beat that conveys the feelings of a panic attack scary good.

"Where Did It All Go Wrong" has Noel singing lead. First impression: I wanna hear it again! I think this will be one of my all-time favorite Oasis songs. Beautiful melody and the lyrics are brilliant. I love the line about keeping receipts for all the friends you've bought.

Noel again for "Sunday Morning Call"...the song is good but IMO has a little more of a grandiose sound than it truly succeeds in carrying out. "I Can See A Liar" is another strong track sung by Liam, who concludes the album with "Roll It Over." A slower-paced, mellow yet powerful song that finishes off this great, psychedelic-style album by Oasis.